An interesting cryptocurrency project that deals gold and silver, which are fixed assets, by combining them to blockchain will be commercialized during this second half. ABX (Australian exchange) and global processing financial institutions such as Visa and MasterCard will be participating in this project.
Kinesis (CEO Thomas Coughlin) announced through an interview with The Electronic Times that gold and silver-based blockchain using Stellar Network will be commercialized globally during this second half.
Kinesis' currency system is the gold solution that not only processes every financial tasks but also manages demands related to currency.
Kinesis is working on a blockchain platform that can trade more than 3,000 times per second by making stable assets such as gold and silver into digital currency. This project is a very large-scale project that involves global mobile banking systems and card companies.
First, Kinesis' basic currencies KAU and KAG will be linked to actual gold and silver in one-to-one ratio. Ownership of actual gold and silver that are linked will be assigned to owners of respective KAU and KAG holders.
KAU (1g of gold) and KAG (10g of silver) are expected to be issued this November and they will be managed by ABX.
Kinesis is also planning to operate an exchange that exchanges KAU and KAG with direct payment cards that can be used at Visa and MasterCard franchise stores or other cryptocurrencies.
Because current cryptocurrencies have high fluctuation of market values, they are not suitable to be used as currency or ways to store values. Even price of a coin with highest market capitalization has high fluctuation and it cannot be used as a means for global business transactions.
However, Kinesis' system utilizes stable assets such as precious metals as payment methods and solves this problem by matching stable assets to cryptocurrencies. It also uses third-party inspection systems to guarantee quality of stable assets.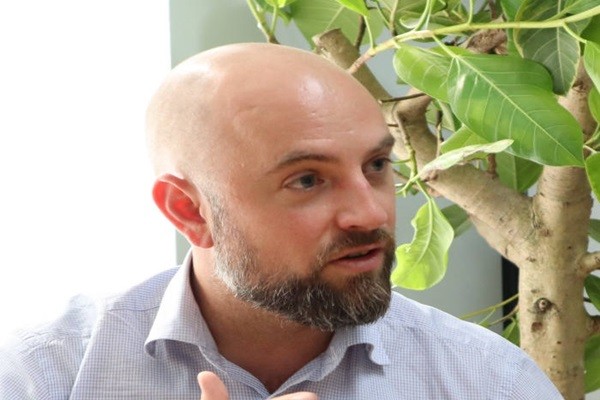 ABX has been trading gold and silver since 2013 and it is used by large dealers and traders. It also has partnership with Germany Stock Exchange, which is one of the world's biggest exchanges, and national post offices.
Participants receive certain percentage of profit just by owning KAU and KAG. Kinesis' current system is based on a structure that issues and sells ERC20-based KVT tokens in advance to establish a system that was forked from Stellar Network.
"I found out that there are problems with central banks' systems with managing legal tenders while I was writing a thesis on currency system in 2010." said CEO Thomas Coughlin of Kinesis. "Because Euro, Won, and Dollar are all currencies that are based on debt, they continue to cause a vicious cycle where debts increase as more of these currencies are issued."
He explained that he thought of the gold system that combines decentralized system with stable assets to solve such problem involving legal tenders.
Kinesis has raised $210 million in funds already. It is planning to carry out ICO during this second half after holding public sale for about 2 months starting from next week. Its exchange will open in November.
*Interview with CEO Thomas Coughlin of Kinesis
"Our currency system has signed partnership with various global businesses such as ABX, Unified Signal (mobile bank), Indonesian Post Office. We will also push for partnership with South Korean businesses."
CEO Thomas Coughlin of Kinesis announced that it will drastically increase opportunities for South Korean businesses to participate in its project.
"Our business aims for global markets and South Korea is a very important market to us." said CEO Coughlin. "We are going to discuss about partnership with various South Korean businesses starting from this week and we hope that there will be many participants coming in." He also elaborated further by saying that he hopes to have partnership with KOREA POST.
"Our exchange (Kinesis Currency Exchange) will play a role of a wholesale market that issues currencies." said CEO Coughlin. "Our model makes wire transfer, storage, and transaction possible and guarantees certain amount of profit." CEO Coughlin elaborated further by saying that Kinesis Blockchain Exchange will also be a digital currency exchange that deals other digital currencies.
Staff Reporter Gil, Jaeshik | osolgil@etnews.com