Chinese P2P (Peer to Peer) markets that have grown to be worth hundreds of billions of dollars are going through a difficult time due to weak companies. There are many incidences where CEOs are arrested by The Public Security Bureau and millions of people cannot retrieve their funds that they invested. Chinese public officials and authorities from The Public Security Bureau have ordered administration of P2P markets to be tightened up and they are carefully monitoring P2P markets.
According to China Network Television, an issue regarding weak P2P companies has come to surface and it has resulted in insolvency of $7.57 billion (50 billion Yuan). There are about million people who are members of relevant P2P companies.
'NIUBANGOLD', which is the biggest P2P company in this area, has trade volume of $5.9 billion (39 billion Yuan) and 820,000 members. It was established in November of 2015 and sold loans along with P2P investment products to companies and individuals. It has accumulated its members through basic profit ratio of 7% and additional 2% or 3% profit ratio depending on mileage.
Afterwards, it evaluated credit rating based on Big Data and advertised that it secured a technology that distributes risks. On its homepage, it posted that it has a listed company in Hong Kong as its parent company and that it safely keeps balances in a bank in Beijing.
A problem started when NIUBANGOLD announced that it was unable to pay $14.9 million (98.5 million Yuan) on the 3rd. It announced that it was difficult to collect investments due to loan borrowers. On the 5th, it has become impossible to withdraw from its platform when its users filed a lawsuit against the CEO of NIUBANGOLD that resulted in imprisonment.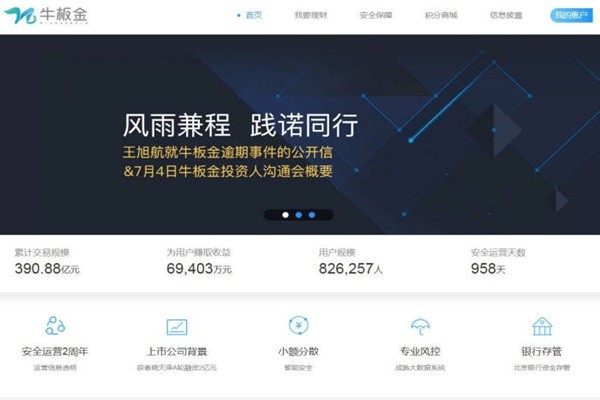 Another P2P platform called Hangzhou Cloud Financial Information was invested by The Public Security Bureau on the 6th due to suspicion of illegal financial trade resulting in a possibility of its 130,000 members losing their investments. Besides these companies, 3 P2P companies in Zhejiang put out announcements on the same day that they are being investigated by The Public Security Bureau.
China's P2P market has grown rapidly as internet-related industries have grown rapidly based on economic growth and population. Although China's financial authorities set up maximum of P2P loans for individuals at $151,000 (1 million Yuan), it is heard that many P2P companies' default rates and delinquency rates have spiked. In just June alone, 46 P2P companies in China had gone through issues with insolvency, delay of refund, bankruptcy, and suspension of business.
Problems have become more serious as non-experts are entering P2P finance industry and as authorities are easily allowing them. Management teams of some P2P companies even received awards for being selected as model CEOs. At the same time, borrowers who could not receive loans from financial industries were given money with high interests without any risk analysis and investors were presented with high profits.
"One needs to be suspicious of P2P companies with profit ratios of more than 6%, extremely careful with companies with profit ratios of more than 8%, and consider that they will suffer loss in anytime with companies with profit ratios of more than 10%." said Premier Guo Shuqing of China Banking Regulatory Commission.
Staff Reporter Park, Jungeun | jepark@etnews.com