As blockchain technology has emerged as a hot topic during this generation of Industry 4.0, insurance industry is also saying that it must look for various innovative opportunities and secure new driving forces by using blockchain technology.
Korea Life Insurance Association (KLIA) held a seminar with a topic 'Innovate for the Future' at The Korea Chamber of Commerce & Industry's International Conference Room on the 4th.
"Blockchain is a fundamental technology of digital and mobile business platforms as delivers values that are credible between participants." said Director Lee Ji-hwan of Samsung SDS Group. "Because blockchain forms network where values can be shared based on decentralization, high security, fast transaction speed, and flexibility and expandability, it provides safe and effective processing of transactions."
Director Lee emphasized that insurance industry must examine possibilities of applying blockchain technology to necessary areas such as verification of frequent mutual transactions, maintenance of strong security, and automated tasks.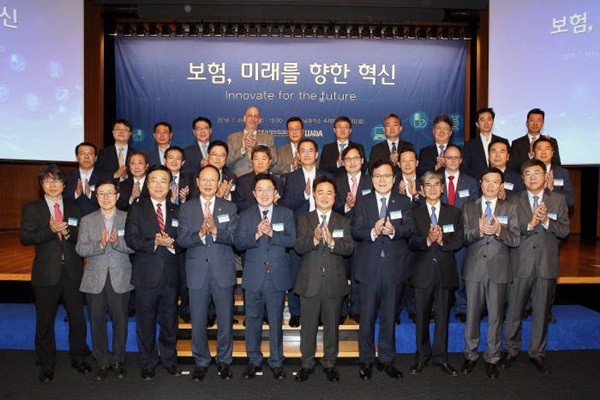 "Weak spots of certificate's security can be strengthened through authentication based on blockchain technology and blockchain technology can also increase level of convenience for consumers by providing automatic insurance claim service and improve work efficiency of insurance companies and hospitals." said Director Lee. "Blockchain technology can also be applied to personalized consulting such as guaranteed analysis based on contract information of customers and recommendation of personalized insurance products."
As a result, he explained that insurance industry must look into using blockchain technology in various areas such as customer health information management platforms and establishment of comprehensive authentication systems between affiliated companies of groups.
"While percentage of InsurTech companies was 0% based on 2013 ranking of top 100 global FinTech companies, it has now risen up to 12%." said Partner Cho Jae-pak of KPMG. "This indicates that insurance industry is directly connected to front-end and rear-end industries and how important it is to utilize data collected from customers."
"We are going to actively push for promotion of competitions, establishment of new regulation frames, and vitalization of Big Data and development of innovative insurance products from insurance industry." said Director Choi Jong-ku of Financial Services Commission.
Staff Reporter Park, Yoonho | yuno@etnews.com