#A large sushi restaurant in Jeju Island found out late that credit card payments worth about $27,000 were not deposited into its account. Although it received 70% of credit card payments after filing a complaint, it ultimately wasted its time as it did not receive rest of credit card payments due to a verification issue of calculation errors by a credit card company. A BBQ restaurant also took financial damage worth thousands of dollars as some of credit card payments were not deposited into its account for months.
To solve such problems involving settlement of credit card payments, Jeju Bank is going to introduce a platform that will settle proceeds of sales through FinTech technology.
Jeju Bank and a startup FinTech company called Korea JS Telecom (CEO Lee Jong-seon) are going to introduce this platform specialized for Jeju region.
Currently, timing of depositing settled payments into accounts of franchises are different per credit card company. Settlement also takes place periodically. As a result, there are many times when credit card payments become unsettled. Because Jeju Island is a special tourist zone where there are large franchises, such problem occurs more frequently.
There are three ways to calculate of proceeds of sales. One way is to have franchises to have directly submit statements. Another is to have VAN (Value Added Network) agencies to process data electronically. Last way is to have franchises to make purchasing data directly and send them to credit card companies electronically. It is heard that there are many incidences of unsettled payments when VAN agencies are automatically settling purchases.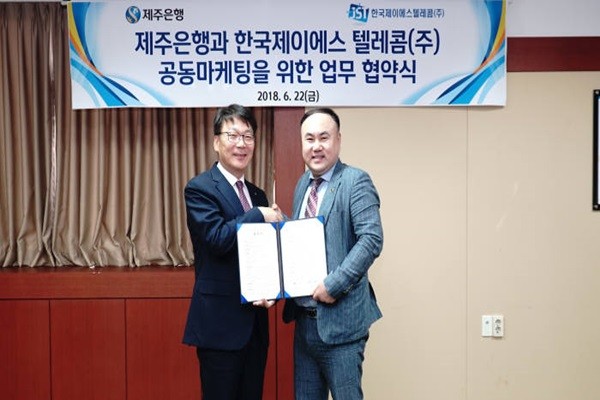 Jeju Bank is going to introduce a platform that settles credit card sales and was developed by Korea JS Telecom. This platform shows unsettled claims, duplicate approvals, and bankruptcy at once. It is also installed with a program that notifies commission systems that are different based on credit card companies.
They are going to make sure that duplicate verifications of unsettled proceeds of sales by credit cards are carried out by operating a comprehensive settlement operation center.
Franchises that decide to work with Jeju Bank will be able to easily take care of proceeds of sales from credit cards through IT technologies.
Jeju Bank and Korea JS Telecom have also decided to operate card receipt lottery (lucky) event platform.
Credit card receipt lottery system, which is part of a plan to establish infrastructure network for tax data, is a system that was introduced to legalize tax standards for self-employers by invigorating use of credit cards. It is a type of marketing that pays prize money by drawing numbers of settled receipts.
"When automatic settlement of credit card payments platform is introduced, franchises will be able to resolve problems that occur from unsettled claims and duplicate approvals." said Vice-President Park Ho-ki of Jeju Bank. "We will play a role of a financial partner so that franchises in Jeju Island can focus on their businesses more conveniently."
Staff Reporter Gil, Jaeshik | osolgil@etnews.com