Sectoral mobile assistant services are gaining popularities. Competitive sectoral assistant applications were launched based on an ability to provide personalized services and familiarity. A generation of competition between virtual sectoral assistants has arrived.
FinTech company called Rainist (CEO Kim Tae-hoon) has commercialized an asset management service called 'Financial Assistant' through BankSalad.
Users can receive various investment management services that wealthy people receive through Financial Asssistant. They can check present status of financial products and one's asset in detail and receive tips on how to increase their assets at the same time.
When one's certificate is linked, one's current status on his or her asset that is linked to financial companies can be seen automatically. 13 card companies, 20 banks, 1 financial organization (Hometax), 11 stock firms, and 8 insurance companies are currently linked to Bank Salad. One of reasons why Financial Assistant is popular is because it allows one to look at his or her assets that are separated between financial companies.
Jobis & Villains introduced a receipt application called 'Smart Receipt Assistant – Jobis' that records details of receipts. It gains popularities as it even helps with tax support. Because it can easily and systematically handle complicated tax-related tasks, it helps tax accountants and businesses with less work.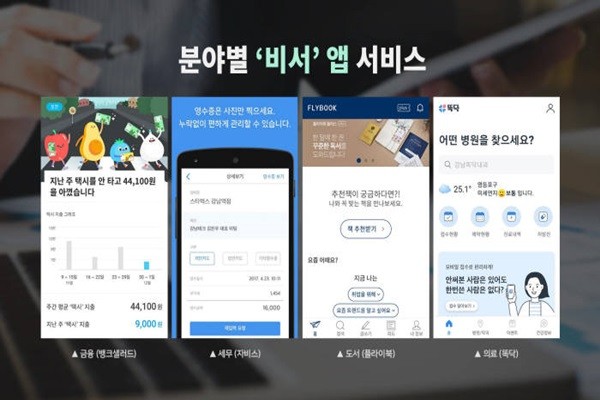 There is no need to send each receipt to a tax account by using this service. Necessary information will be sent to a tax account through a certificate while tax accounts can lessen amount of their work of inputting documents one by one. Jobis is planning to add services such as automatic inquiry of financial information, management of wages, and registration of corporates that are necessary for businesses in the future.
An O2O healthcare company called B-bros' mobile healthcare platform called 'DdocDoc' is a one-stop mobile medical service that allows one to make reservations from nearby hospitals and to check wait time in real-time. It allows one to easily obtain health management as an assistant service.
One can make reservations and registrations from nearby hospitals and check information on nearby pharmacies after treatment through DdocDoc. A mobile prescription inquiry service that was introduced early this year allows one to inquire and check effects and precautions of prescribed medicines after just scanning their QR codes. DdocDoc also provides an alarm that allows one to take medicines on time and it has added more convenience as it allows parents to manage prescriptions for children who are under 14 years old.
Recently, B-bros also introduced a hospital mobile status board service that provides wait time in real-time through KakaoTalk.
Staff Reporter Gil, Jaeshik | osolgil@etnews.com