Japanese Government is working on propagating FinTech-based electronic currencies to invigorate different districts. There are even local digital currencies based on blockchain. Through this propagation, Japanese Government is also working on experiments that will minimize intra-funds from outflow. This action being taken by Japanese Government is contrasted to South Korean Government that is only sticking to establishing regulations.
Japanese Government has started 'Local Joint Point Project' with Development Bank of Japan at the center. This project has a particular business issue a point card to a user who then receives a point for spending 100 yens to buy projects or to eat at franchise stores. A point that is accumulated can be converted to one yen which can be used at franchise stores.
However, electronic currencies cannot be used once they go outside of a particular region. They cannot be recognized as a national method of payment either. However, they are expected to reduce costs of printing paper money and to help local economies from being independent.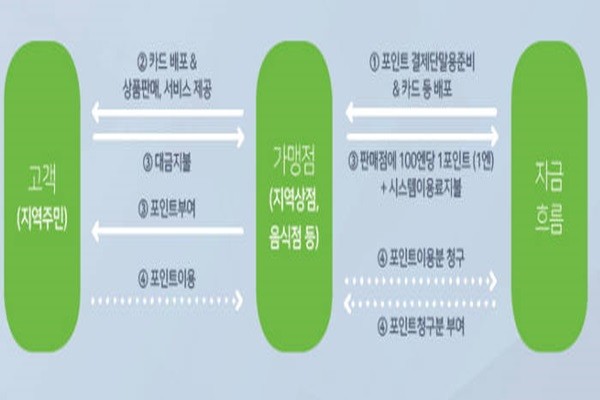 Actually, Japan's biggest shopping mall called AEON is gaining popularity by launching an electronic currency called 'WAON'. WAON Is applied to a local joint point project called 'Megurin', which is centered on Takamatsu in Kagawa Prefecture.
AEON is also carrying out an unique experiment to see whether a person can live a normal life for a month with just Megurin points. It is going to give 50,000 points (worth 50,000 yens) to a college student as part of this project.
An unexpected economic effect has occurred. When people participated in volunteer activities within Megurin Village or used local stores, there has been a growing level of local fellowship. Also, there were opportunities to exchange fan club cards of pro local sports teams and to exchange points. AEON believes that its project has been established successfully as local residents can pay their electric bills or gas bills with Megurin points
Reactions towards a local electronic currency called 'Shimatoku', which is available within Nagano Prefecture, are also very positive.
This currency is a local electronic currency utilizing Smartphones and it is limited to local tourists. This currency is part of a project to increase number of visitors. This project even provides a premium service that gives 20% of profit when this currency is converted to yen. A person can use this currency in a unit of 500 yens and he or she must use all during his or her trip. Currency lasts for 14 days.
Japanese Government is estimating that a local government saved about 25% from manufacturing paper money after issuing Shimatoku.
Staff Reporter Gil, Jaeshik | osolgil@etnews.com