The Korea Federation of Banks (KFB) made an announcement that it will be enforcing blockchain-based bank joint-authentication service called 'BankSign' starting from next month.
BankSign utilizes strengths of latest technologies such as public key infrastructure (PKI)-based certification technology, blockchain technology, and Smartphone technology and raises level of safety and convenience of electronic trades.
South Korean banks have been developing BankSign after establishing 'Bank Blockchain Consortium' with KFB in November of 2016 to meet South Korean Government's policy to vitalize blockchain and to apply blockchain technologies to financial systems.
It is difficult to forge or falsify BankSign as it is applied with consensus algorithms and distributed ledgers that are characteristics of blockchain. It also prevents extortion or copy of personal keys and unauthorized use of keys as it stores personal keys (electronic signature production information) into safe areas of Smartphones.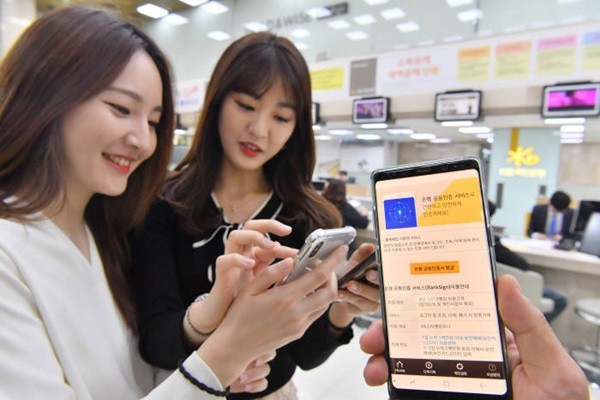 One can use both mobile and PC internet banking through a Smartphone application's certification process. Expiration date of a certificate has extended to 3 years.
KFB is planning to apply BankSign to government, public agencies, and relevant agencies in the future.
On the other hand, certificates can still be used regardless of BankSign. Reason being is to eliminate any supreme position of certificates where only electronic signatures from certificates were acknowledged whenever electronic signatures were required and to strengthen competitiveness of electronic signature industry through competitions and increase number of selections.
"South Korea banks will continue to actively use latest technologies such as blockchain and AI (Artificial Intelligence) that are related to Industry 4.0 to financial systems to improve level of safety and convenience of electronic trades." said a representative for KFB.
Staff Reporter Gil, Jaeshik | osolgil@etnews.com