Scam (Phishing) sites that pretend to be crypto airdrops are starting to make their appearances. There are even victims who were extorted of their cryptocurrencies after not checking sites thoroughly and inputting their personalized keys. It seems that these sites targeted elevated interests and expectations from investors due to new ICOs (Initial Coin Offering) and launch of EOS mainnet.
According to industries, number of relevant scams increased noticeably when mainnet of EOS, which is considered as the third-generation cryptocurrency, was launched. As fake airdrop sites that can be easily seen as official sites are also making their appearances, EOS is notifying investors about danger of scams through its official Twitter page.
Crypto airdrop is similar to a concept of free issue and distribution of new shares. Corresponding coin or a new coin is issued for free depending on a certain ratio and number of particular coins that a person owns. Crypto airdrop usually takes place to promote a new coin or to secure initial users of a DApp (Decentralized Application) service.
However, some airdrops do not take place if cryptocurrency exchanges purchase corresponding coins and keep them in their wallets. This means that investors are only given airdrops that are officially supported by cryptocurrency exchanges out of various airdrops. As a result, investors either use outside personal wallets such as MyEtherWallet or request a process of certification of balance from an airdrop event to receive airdrops smoothly.
Hackers who look to extort cryptocurrencies try to catch investors off their guards. They try to induce investors to input their personalized keys by making fake airdrop promotion sites that look almost exactly like official airdrop sites. They also use a method that tricks investors with sending their coins to addresses of fake wallets by abusing the fact that it is not easy to notice an address of a wallet.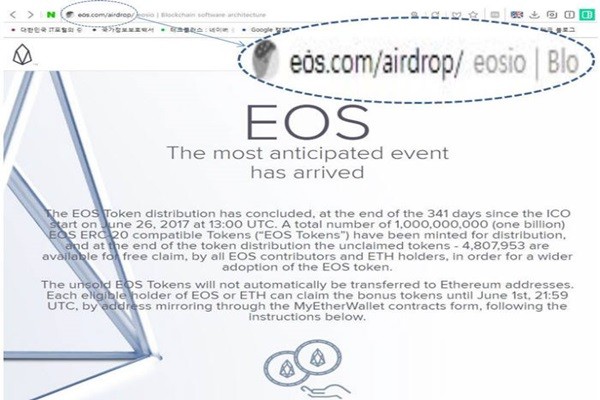 It is very difficult to distinguish a scam site from a normal site. It is also possible to distinguish an URL address after looking at it very closely. Hackers put a dot over an alphabet or place 0 instead of an alphabet O for an URL address of a scam site. They then advertise their scam sites through emails or online community boards as airdrop events.
This method is similar to a way that phishing sites used in the past to extort Google, Facebook, or Naver accounts or to steal internet banking financial information. Although these sites have enhanced their security systems or applied devices that distinguish fake sites from real sites to prevent phishing sites, they are practically defenseless when it comes to cryptocurrencies.
Difference in amount of known information due to unfamiliar words and technical terms from cryptocurrency and blockchain fields is another cause to an increase in number of victims.
To prevent any damage from scams, it is necessary for investors to check official homepages, Twitter pages, or telegrams before they hastily participate in airdrop events as soon as they hear about news related to airdrops. They have to be especially careful with providing their personalized keys that play important roles in security.
It is also a good idea to send small number of coins to their personal wallets first to check whether addresses of recipients are the addresses of their wallets because there are also victims who lost their assets by sending large number of coins to wrong addresses or addresses of fake wallets.
Staff Reporter Park, Jungeun | jepark@etnews.com