ZUM Internet (CEO Kim Woo-seung) made an announcement that it has opened 'Coin ZUM' through its search portal called http://zum.com that allows one to check comprehensive information on cryptocurrencies in a very simple way. ZUM Internet is a subsidiary of EST Soft that is known for its AL service such as 'ALYac'.
'Coin ZUM' provides information on various cryptocurrencies through its service page. Its service page is divided into market value, news, real-time reactions, and recommended channels.
One is able to check market values of various cryptocurrencies such as Bitcoin, Ripple, Quantum, EOS, and ADA through 'Coin Market Value' page. Because this page also provides detailed information on investments such as fluctuation rates, premiums, and charts, it helps with strategic investments into cryptocurrencies.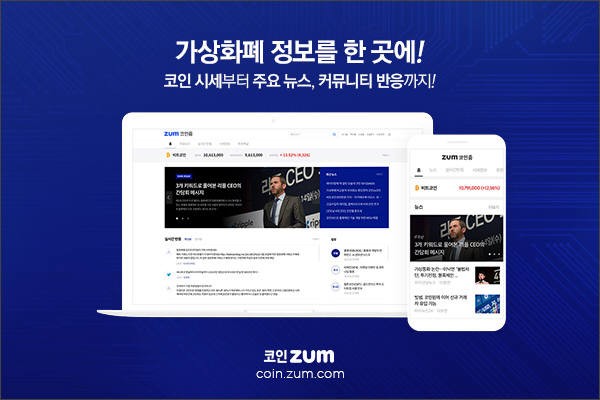 'News' page provides major domestic and foreign news related to cryptocurrencies. News that are provided are updated in real-time. Through this page, one can quickly and simply check issues and trends of cryptocurrencies.
'Coin ZUM' also has 'Coin Board' page that provides information and charts on various cryptocurrencies, 'Real-Time Reaction' page that provides postings from various communities such as DC Inside, and 'Recommended Channel' page that recommends YouTube channels related to cryptocurrencies with more than 10,000 subscribers.
"It is difficult to find credible information when one decides to invest into cryptocurrencies as information on them are spread out through various websites." said a representative for ZUM Internet. "We are going to carefully select and provide credible information that can help current investors as well as new investors."
One can check 'Coin ZUM' service through http://zum.com or http:coin.zum.com.
Staff Reporter Park, Jungeun | jepark@etnews.com