Former president Lee Gun-ho of KB Bank, who stepped down in midway due to a conflict with next-generation host computers, had a direct message towards Bithumb. He strongly criticized a press release that reported that Bithumb recently established a top security system by saying that it is a 'twisted truth'. He also criticized the media that wrote such article without covering necessary materials.
Former president Lee recently left a lengthy post with a title 'Cryptocurrency Exchange with 5-5-7 Regulation' through his Facebook account.
"When I read the article that reported that Bithumb has secured a top security system, I realized that reporters copied a press release that was distributed as it is and made it into a report." said Lee Gun-ho. He also elaborated further by saying that it is natural to check whether materials from a press release make common sense and that it is very common for South Korean media to put out a press release from a company as if it were a covered story.
"5-5-7 regulation is a regulation that recommends financial companies to use 5% of their employees as IT workers, 5% of IT workers for information protection, and 7% of entire budget for protection of information." said Lee Gun-ho. "Bithumb currently has about 21% of its employees as IT workers, about 10% of its IT workers for information protection, and about 8% of annual budget for protection of its information." He explained that all three areas greatly exceed recommended levels of 5-5-7 regulation. However, he pointed out that distortion is very serious if people think that Bithumb has an excellent security system after reading such reports.
He emphasized that cryptocurrency exchanges completely depend on IT unlike normal financial companies. Because their business structures and qualities are completely different from financial companies such as banks that perform significant amount of offline activities, their minimum requirements that are needed for security are also vastly different from that of financial companies.
He also clarified that 50-50-70 regulation and not 5-5-7 regulation can be more appropriate for cryptocurrency exchanges. As a result, he criticized Bithumb for boasting about its current security system and not explaining why 79% of its employees are not IT workers, why 90% of its IT workers perform duties that are unrelated to information protection, and why 92% of its annual budget is used in areas that are unrelated to information protection.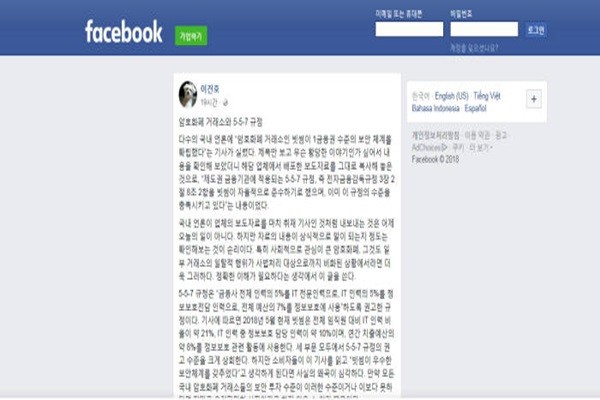 He also pointed out that press releases that were sent by Bithumb to media have many problems.
"Although 5-5-7 regulation is not a regulation that must be kept, Bithumb should follow the corresponding regulation to keep its promise of fulfilling all of its responsibilities and duties as a global cryptocurrency exchange." said Lee Gun-ho while quoting words from Bithumb's press release. "There is an ethical problem with how representatives from Bithumb said that they will not be conservative with its budget when it comes to establishment of a security system since protecting its customers' assets is more important than anything else."
He pointed out that such act is a fraudulent act and that there is an intent of ridiculing its consumers even if it concedes hundred times.
He also expressed his concerns towards modifications of systems around exchanges. He argued that while words such as electronic currency, virtual currency, and cryptocurrency are still not defined, complete prohibition of ICO and excess regulations on entire exchanges are all tangled up. He emphasized that systematic modification by supervisory authorities and South Korea's legislative branch is very urgent to overcome such realities. He argued that although South Korean Government is emphasizing voluntary restraints by putting out Korea Blockchain Industry Promotion Association to the front, it will be difficult to build trusts towards blockchain and cryptocurrency industries if trusts from consumers towards individual exchange is not grounded.
"Not only do we have employees qualified for information security qualifications such as CISA and CISSP, but we also have financial security personnel that has experiences with certifications such as ISMS, PIMS, and ISO27001." said Bithumb. "Obeying 5-5-7 regulation indicates that one is following the minimal security standards within financial industries." In addition, Bithumb elaborated further that it is obeying standards on devices, electronic data, prevention of hacking, and prevention of contamination of malware that are related to information protection.
On the other hand, this controversy has continued to expand as CEO Lee Yong-woo of Kakao Bank followed up Lee Gun-ho's post on Facebook.
Staff Reporter Gil, Jaeshik | osolgil@etnews.com & Staff Reporter Park, Jungeun | jepark@etnews.com