"A child wearing a yellow raincoat disappeared."
When a report about a missing child from a park in Yeoju was received, remote control of a drone started from Songpa-gu Office's Disaster Status Control Center, which is located 43km away from the park. Drone searched the park, which is equal to 9 soccer fields in size, in a snake shape and it was able to find the missing child in less than 3 minutes. Even when it was flying at 50m from ground, it was able to capture a clear picture of the missing child with its optical zoom 30X high-resolution camera.
"If we used manpower, finding the missing child would have required many people and time." said Team Leader An Jae-seung of Songpa-gu's Safety Planning Team. "Drones will greatly improve efficiency in a task of searching missing children."
It is expected that South Korea's first 'drone invisible flight', which was introduced by LG Uplus and Hanwha Precision Machinery to Songpa-gu Office, Songpa Police Station, and Yeoju Police Station, will be an opportunity to raise a level of use of drones.
Above all else, it is possible to control drones from afar unlike current drones on markets.
When drone's flight path, altitude, and speed are inputted on a map of a comprehensive situation screen, corresponding drone is able to fly on its own following a fixed route.
High-quality images that are sent by drones are shown in real-time through a screen next to a comprehensive situation screen. Performance of drones' cameras is excellent as drones can clearly separate people's faces from 50m in altitude. At night time or in bad weather, drones use their thermo-graphic cameras.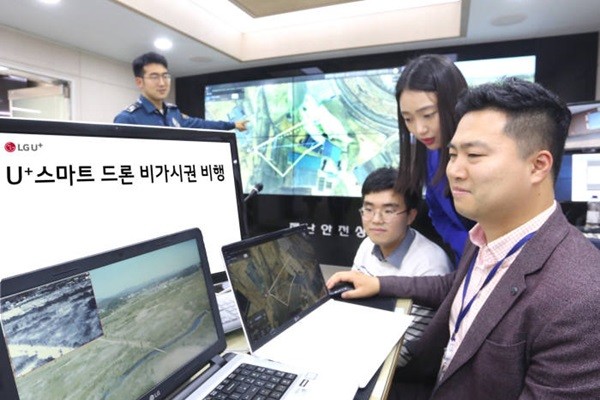 "Although it seemed that a drone was being controlled on scene, it reacted to my control in real-time." said Lieutenant Kang Dong-woo of Songpa Police Station's Public Safety Department's Crime Prevention Diagnostic Team who remotely controlled a drone. "Control was very easy."
"We expect that these drones will also help in preventing crimes as they are able to easily observe narrow alleys where patrol cars cannot go in." said Lieutenant Kang.
This demonstration took place relatively from a far place as South Korea's first 'drone invisible special flight' approval according to Aviation Safety Act came out to Yeoju area.
It is expected that this technology will be used for tasks such as search of missing children and others by local autonomous bodies or police stations.
Because drone's airframe and a control center are connected to LTE network, it is possible to control drones remotely and have drones send images in real-time.
It is expected that it will be possible to completely control drones in real-time remotely once small delay in transmission that occurs from LTE network is solved by 5G network's ultra-low latency technology. LG Uplus announced that it is planning to finish development of 'drone invisible flight' technology by end of this year. LG Uplus is also planning to apply 3D maps for self-produced drones and an ability to avoid collision with other drones.
However, some point out that drones' battery performance needs to be improved so that its flight time, which is currently between 15 and 20 minutes, can be extended.
"Use of invisible drones will be great in other areas as well such as agricultural industry, fishing industry, and distribution industry." said a representative for LG Uplus. "Invisible drone will develop into a business model that will lead 5G generation."
Staff Reporter Kim, Yongjoo | kyj@etnews.com