Certificates have lost their monopolistic positions after 20 years of reign. As South Korean Government pre-announced 'a complete revision plan of Electronic Signature Act' last month, history of certificate system came to an end. It has been 3 years since former President Park Gun-hye's comment on 'Cheon Song-Yi Coat' sparked a controversy.
Number of certificates issued in 2017 was 37.92 million. Certificate had placed itself as a typical authentication method for both financial industries and government system as it can perform verification and electronic signature. However, it disappeared from the center stage of history and created alternative markets as a result.
'Blockchain authentication' has emerged as a new paradigm recently. Within blockchain network, one bank's issues do not affect tasks of a different bank. Within a system that was based on certificates, every task came to a halt when a central server was hacked or stopped. Also, blockchain network has low risk of falsification and counterfeit as it stores transactional information into network separately. This is the reason why blockchain is drawing attention as a method for co-authentication for financial industries.
◊Financial Investment Industries and Banks the First Ones to Introduce Blockchain Authentication Systems
Financial investment industries were the first ones to start introducing blockchain authentication systems. Korea Financial Investment Association (KFIA) started pilot service of 'Chain ID' at the end of last October. 11 financial investment companies such as Daishin Securities, Meritz Securities, Shinhan Financial Investment, Yuanta Securities, Eugene Investment & Securities, eBEST Investment & Securities, KB Securities, Kiwoom Securities, Hana Financial Investment, Korea Investment & Securities, and Hanwha Investment & Securities participated in this pilor project.
In the past, people had to log in many times to use other stock firms' MTS (Mobile Trading System). However, through 'Chain ID', people can now go through an authentication procedure at a stock firm just once and not have to go through more procedures at other stock firms.
KFIA finished the project after 3 months and announced the direction of Chain ID's improvements such as interwork between Chain ID and PC and combination of Chain ID and biometrics.
Banks also finished preparation of co-blockchain authentication system. The Korea Federation of Banks (KFB) started a pilot project of co-blockchain authentication system on the 27th of this month. 6 South Korean banks such as KB Bank, Shinhan Bank, IBK Bank, KEB Hana Bank, BNK Busan Bank, and Jeonbuk Bank are testing real transactions through blockchain network.
PKI (Public Key Infrastructure) information is shared between banks through blockchain technology and authentication technology. Simple login methods such as pin number, fingerprint, and pattern are provided.
"Co-blockchain authentication system prevents personal keys from getting stolen as it stores personal keys into safe areas of Smartphones." said a representative for KFB. "When revision of Electronic Signature Act takes place, it is expected that this system will be used widely towards South Korean Government and public organizations."
Insurance industries are also starting to establish their own blockchain authentication systems. Korea Life Insurance Association recently announced a project involving blockchain authentication system and is currently looking for businesses that will take on the project.
Financial industries will be able to reduce about 15% of entire IT costs by applying blockchain platforms to their financial services. Duration of expiration of a certificate will increase from 1 year to 3 years. Amount of commission will also be reduced by ten-fold.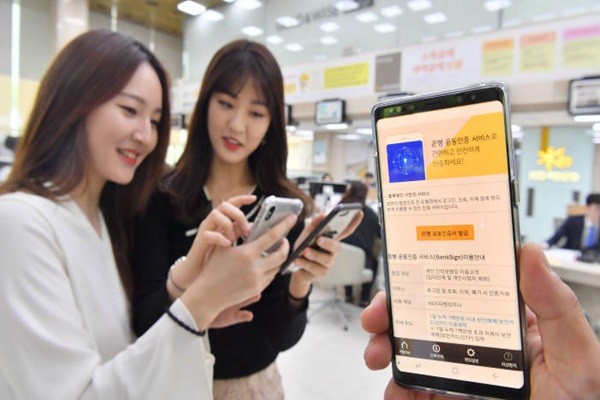 ◊Obstacles for Blockchain Authentication
To completely replace certificates with blockchain authentication system, there are many obstacles that need to be resolved.
First of all, application of blockchain authentication system is limited. Blockchain authentication system for banks can only be used by banks while blockchain authentication system for financial investment industries can only be used by stock firms.
Another limitation is lack of standards. While biometrics follow FIDO (Fast Identity Online) standards, blockchain does not have standards yet.
"While 'standards of operation for electronic signature authentication tasks' is clearly stated within a complete revision plan of Electronic Signature Act, blockchain does not have common international standards as it is a new system." said a representative for a financial industry.
Actually, Chain ID and KFB's blockchain authentication system are based on Loop Chain (Theloop) and Nexledger (Samsung SDS) platforms. Technology that can converge two different platforms is needed to create standards.
KFIA is working with Financial Security Institute's Financial Security Standard Council to prepare proposals for standards that will connect different blockchain authentication systems. However, because systems must be stabilized first, it is expected that it will somewhat bit of a time to prepare such proposals.
"We will be able to share policies within limited areas after KFB's pilot project makes some progress." said a representative for Financial Security Institute. "Stabilization of a system must take place first and we expect that a framework of standards will be prepared before this July."
Legal effects of electronic records such as contract, certificate, and electronic signature within blockchain network must be guaranteed. Park Sung-joong proposed a 'partial revision legal plan of Electronic Signature Act', which gives effects of electronic signatures into documents that are saved in blockchain, last month.
◊Financial Organizations Attempting to Introduce Blockchain
Nonetheless, blockchain paradigm is currently spreading towards financial organizations as well.
The Bank of Korea carried out a mock test of transfer of funds between banks based on technologies from a blockchain consortium called R3CEV in this past February. It is also looking into whether this transfer can be actually applied to payments systems as well and it is looking for ways of applying blockchain to next-generation accounting and payment systems.
Financial Supervisory Service established FinTech Support Office earlier this year to research about blockchain. FinTech Support Office is under the direct leadership of the chief vice-president and it has Blockchain Research Team.
Staff Reporter Ham, Jihyun | goham@etnews.com