Legislation of 'Blockchain Industry Promotion Fundamental Law', which has information that allows ICO (Initial Coin Offering) within the framework of the current South Korean law', is being pushed by South Korean Government. South Korean Government is planning to allow issue and distribution of digital coins by applying various current laws according to economic functions of 'digital token'. This law also has information on formation of foundation of industries such as support of startups, growth of experts, and increase in number of demands for technologies from public fields.
Korea International Trade Association (KITA, Chairman Kim Young-joo), Korea Blockchain Industry Promotion Association (KBIPA, Chairman Kim Hyung-joo of the board), and Hong Oui-rak, who is a member of The Minjoo Party of Korea held a 'debate for promotion of blockchain industry' on the 2nd and introduced main information of 'Blockchain Industry Promotion Fundamental Law'.
"Fact that people view blockchain as a good industry and cryptocurrency as a bad industry is a part that we need to overcome fast." said Hong Oui-rak. "Because coin is ultimately a compensation that is given for vitalizing blockchain industry, we need to consider many ways to vitalize blockchain."
Blockchain Industry Promotion Fundamental Law deals with formation of foundation of blockchain industry (promotion of R&D, support of startups, growth of experts, and standardization of technologies) and promotion of use of blockchain technologies (acknowledgement of effect of blockchain's electronic document and regulation of Smart Contract's legal properties). KITA and KBIPA proposed this law, and Hong Oui-rak is currently pushing for legislation of this law. As part of legal system, they regulated establishment of 'Blockchain Industry Strategy Commission' under the Office of the Prime Minister.
They also included ways of allowing ICO, which is being prohibited by financial authorities, from an aspect of accelerating uses of blockchain technologies.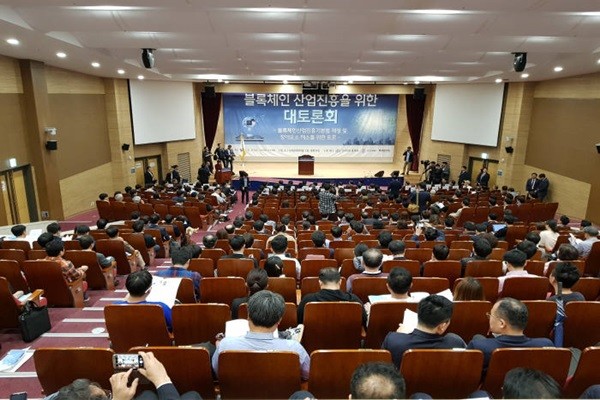 It is clearly indicated in Article 28 that 'blockchain businesses can issue or distribute electronic tokens (digital token) that represent rights, profits, and assets by using blockchain technology'. Also, it is regulated in Section 2 of Article 28 that 'Commercial Act, Electronic Financial Trade Act, and laws related to capital markets and financial investment industries can be applied depending on economic functions of digital tokens."
"This fundamental law divides blockchain industry into financial area and non-financial area and we have the chairman of Financial Services Commission (FSC) and the minister of Ministry of Science and ICT (MSIC) as main agents that will promote respective areas." said Senior Attorney Kim Kyung-hwan of Minwho Law Group who took action as the presenter. "We need to collect opinions from various fields during legislation process as the main point of this law is based on allowing ICO within the framework of the current law."
Blockchain technology is drawing spotlight as a promising technology that will provide credibility and efficiency at the same time. It has recently started drawing interests again due to its technical uses and promise after gaining interest with cryptocurrency first. However, there are criticisms that believe that it will be difficult for innovative blockchain startups to be established due to regulations that were established as side-effects from speculation frenzy of Bitcoin.
"Blockchain can solve problems regarding complicated procedures and costs even in trade industries and it has high level of use in various areas such as finance, distribution, and IT." said Vice-Chairman Han Jin-hyun of KITA. "In order for blockchain industry to be rooted as a new driving force that will create new values and employments, South Korean Government must prepare solutions so that South Korean companies can gain competitive edge in this industry."
Staff Reporter Park, Jungeun | jepark@etnews.com