Dunamu (CEO Lee Seok-woo), which operates a cryptocurrency exchange called UPbit, made an announcement that it will be the first out of cryptocurrency industry to introduce 'World Check' with help from Thomson Reuters. It is taking this measure to provide transparent cryptocurrency trades and to enhance its KYC (Know Your Customer) system.
Upbit will be able to establish a clear process of confirmation of customers by introducing World Check. It is expected that World Check will help with AML (Anti-Money Laundering) and CFT (Countering the Financing of Terrorism).
World Check is data-based crisis management system that distinguishes individuals and businesses that are possible subjects of financial crimes and extortions and notifies them to customers. With this system, main people who are involved with illegal acts such as fraud, bribery, organized crime, and terror can be quickly notified to customers. Also, it is effective in reducing occurrence rates of illegal trades and financial crimes as it predicts crimes that are related to cryptocurrency in advance.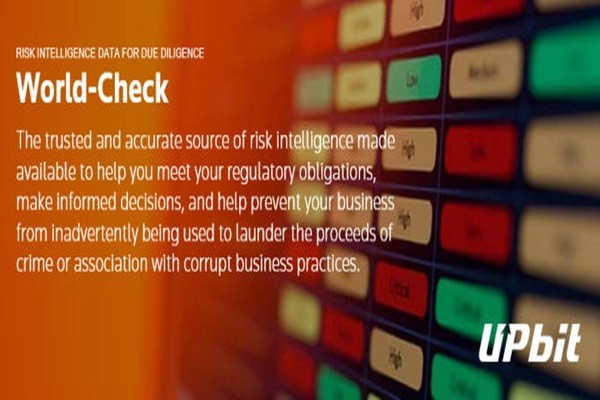 When an unspecified individual tries to become a member of UPbit, that person's information is compared to data from World Check as part of a process of confirmation. When it is believed that the person is related to possible crimes and terrors, registration process is stopped immediately. UPbit is planning to carry out EDD (Enhanced Due Diligence) once a subject is found to be suspicious. Besides this ability, UPbit can also use World Check to check members' restrictions and criminal records daily even after they become members. As a result, UPbit will be able to prevent and stop money laundering and formation of funds for terrorism in advance through World Check.
"We are going to be a leader in AML by introducing Chainalysis followed by World Check." said CEO Lee Seok-woo. "To create a transparent and safe environment for cryptocurrency trades, we are going to establish a strict system and present standards that will lead global exchanges."
UPbit also introduced a money flow tracking system called 'Chainalysis' and is carrying out a 'pyramid coin report system' that rewards the person that is the first one to report pyramid coins.
Staff Reporter Gil, Jaeshik | osolgil@etnews.com