Goldmax Group is planning on a platform that certifies genuine products using blockchain technology. It is going to establish a global platform to prevent counterfeits and to secures safety by tying this platform with its 3D security film starting from this month.
Goldmax Group announced that it started establishing a platform that certifies genuine products while aiming to finish this platform by end of November. This platform allows users who purchased products that come with Goldmax Group's 3D security film called G-MOV to check whether these products are genuine products through Goldmax Group's online platform. To induce certification from buyers, Goldmax Group is going to give out cryptocurrency called 'G-MOV Coin' as compensation.
Goldmax has been selling its anti-forgery security films since 2014. It is difficult to forge G-MOV unlike current genuine product authentication systems such as hologram and QR code as it uses semiconductor wafer processing technology, nano-mold technology, super-accurate optical technology, and ultra-thin film label manufacturing technology. It changes into various patterns depending on an angle and it allows one to check for originality with naked eyes. Another strength of G-MOV is its record tracing technology that checks information on producers and distributors at the same time.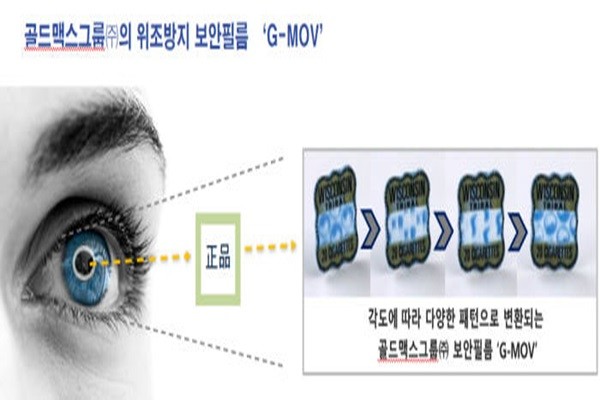 In order for its platform to succeed, various companies must adopt its G-MOV films. As a result, Goldmax Group established an American corporate in January and strengthened its business for global security companies and domestic and foreign customers. Besides electronic products, it is also delivering its security films to various industries such as cosmetic, clothing, liquor, and food.
It established a large-scale production system with MNtech this month to meet increased demands. Number of daily output of labels from a set of equipment increased from 40,000 units to 35 million units through MNtech's production support.
Goldmax is expecting that anti-forgery security film market will continue to grow in the future. According to 'Havocscope', which is a site that specializes research on black markets, global markets for fake products were worth $654 billion in 2013 based on 26 items from 88 countries. Although South Korean markets for fake products are worth $13 billion (14 trillion KRW), only 5% of them are exposed to statistics. Fact that number of demands for genuine product authentication systems continues to increase in various industries such as cigarette and food as standards have become more strict due to health issues is a positive news for anti-forgery security film market. Goldmax Group is expecting that it will be able to reduce number of fake and imitation products that were not handled properly in the past by tying its security film with blockchain technology.
"Through MNtech's production support, we have secured security from aspects of technologies and production costs and we have prepared foundation for expanding our business globally." said CEO Cho Sung-jae of Goldmax. "By combining our differentiated security film with blockchain technology, we are going to focus on preventing companies and our customers from money and health issues."
Staff Reporter Oh, Daeseok | ods@etnews.com