EnergiMine, which is a global energy platform based on blockchain, has officially entered South Korean market.
It also made an announcement of its plan to pay cryptocurrencies that can be exchanged for actual money when energy is saved by working with top 3 banks in South Korea.
EnergiMine held a press conference at Hotel Cappuccino on the 11th and introduced its reasons on entering South Korean market and its future plans.
"I noticed a problem of people not being compensated for saving energy in the past and that is why I decided to start EnergiMine in January of 2017." said CEO Omar Rahim of EnergiMine. "I thought that changes in behaviors were the most important factors in reducing amount of energy consumption and we are going to provide incentives and goals to induce people to reduce amount of energy consumption."
"60 to 70% of Energi Tokens are owned by South Koreans and South Korea is very fast on accepting new technologies." Said CEO Omar regarding the reason why he decided to export EnergiMine's product to South Korean first. "Excluding our headquarters in Manchester, we are practically building our first branch in Seoul."
EnergiMine's goal is to decentralize global energy market that is worth $2 trillion through blockchain technology. As part of its plan, it is going to operate P2P (Peer to Peer) energy trade platform and ETK (Energi Token) compensation platform.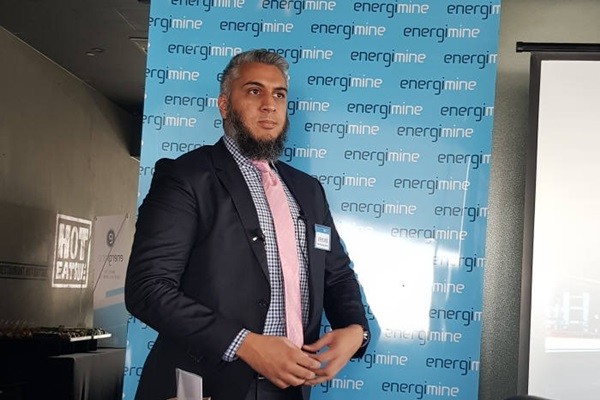 One can buy and sell solar energy that was self-generated through Energi Token on a P2P energy trade platform. EnergiMine automatically pays Energi Token into electronic wallets whenever people use home appliances with high energy efficiency grades or save energy through public transportations and others. Also, Energimine is going to compensate every employee of a company with Energi Token if employees access electric meters in a plant and achieve their goals through blockchain technology.
Energi Token is based on Ethereum (ERC-20) and it can be used to exchange for actual money or pay for energy or charging of electric vehicles.
"It is possible to exchange Energi Token for fiat currencies that can be converted into actual money at partnering banks." said CEO Omar. "We are currently discussing about partnership with top 3 banks in Europe, South Korea, and Japan."
Through ICO (Initial Coin Offering) at the end of February, EnergiMine collected about $15 million (16 billion KRW). It is also expanding its partners such as 'Network Rail', which is a national railroad company in England, and Energy Administrator Association.
However, it is expected that it will take some time for EnergiMine to start its platform businesses in South Korea on full-scale. "We are planning to demonstrate our platforms along with large corporations and universities in South Korea." said CEO Omar. "We are looking for trustworthy partners to register our Energi Token on South Korean exchanges."
Staff Reporter Ham, Jihyun | goham@etnews.com