A small South Korean company is drawing attention by commercializing TOKEN-type payment software and modules as IC (Integrated Circuit) priority payment is set to be enforced on the 20th of July.
According to industries, a South Korean credit card reader manufacturer called Best TNC and a software developer called Hanuri IT co-developed TOKEN software (TOKEN agent) and modules that can be used for IC payments. They also obtained rights to 2 relevant patents in 2017.
TOKEN is a card payment technology that uses one-time card information. Out of 16 credit card numbers, it provides one-time numbers except for first 6 numbers. It can prevent further damage even when numbers are extorted midway.
Best TNC's TOKEN payment module (VTR, VAN TOKEN Reader) can also be used by being linked to current POS (Point of Sale) information management devices. Stores needed to receive certifications from KTC (Korea Testing Certification) depending on a type of POS (20 types) devices. However, VTR with KTC certification can be used without any additional certification.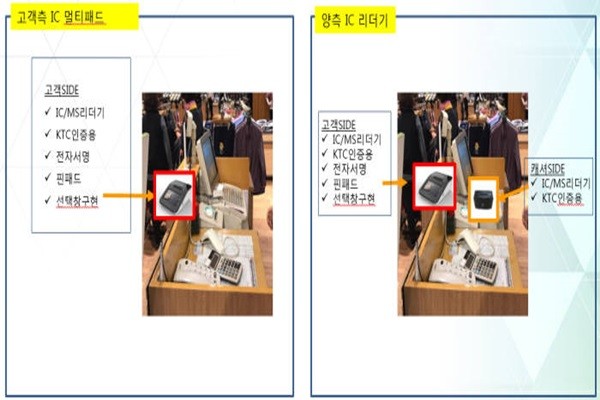 Best TNC and Hanuri IT also solved a problem regarding how it was difficult to cancel payments after magnetic payment terminals were converted to IC terminals. Unlike magnetic POS devices, IC payment POS devices do not leave card numbers for security purpose. As a result, they cannot bring up card numbers when payments are cancelled. However if they are linked to TOKEN modules, TOKEN numbers can be used as data for purchase and cancellation.
"When TOKEN modules are applied to stores, one does not have to correct business logic and it is easy to convert to IC payment." said a representative for Best TNC. "Wonkwang University Hospital, Jaseng Hospital of Korea Medicine, and Daejeon Sunhospital are currently using our technology for their payment systems and we are planning to expand our business to Kyobo Book Centre and Hyundai Department Store in the future."
Staff Reporter Ham, Jihyun | goham@etnews.com