A conference where one can survey future FinTechs such as blockchain, AI (Artificial Intelligence), cryptocurrency, and biometric.
Businesses such as Visa, Dunamu, IBM, Hana Financial Group, and Brilliantts that are experts in their respective fields are going to present directions for FinTech industries as they face hyper-connected society.
7th Smart Finance Conference hosted by The Electronic Times will be held at FKI (Federation of Korean Industries) Tower on the 19th.
Under a topic called '4/19, Innovative FinTech That Will Lead the World (subtitle: AI to Blockchain), this conference is going to provide important information on topics such as blockchain, AI, biometric, and cryptocurrency that cannot be encountered on normal days and have emerged as future technologies recently.
CEO Lee Seok-woo (former CEO of Kakao), who had led Kakao's amazing history, is going to give a keynote speech at this conference under a topic called 'Future of Blockchain Ecosystem'. Dunamu is going to invest $93.5 million (100 billion KRW) into industries that are related to blockchain for the next 3 years and it is planning to announce its operation plans.
Executive Director Park Wie-ik of Visa Card is also going to give a keynote speech under a topic called 'Changes in Payment Paradigms of Consumers during AI Generation' and provide latest trends within payment markets.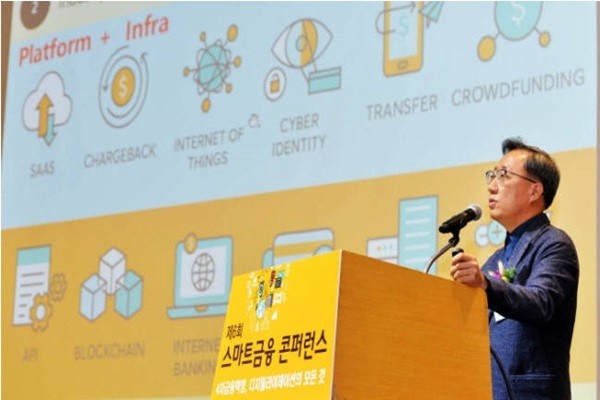 Vice-President Han Joon-sung of Hana Financial Group, which is considered as a 1st FinTech generation, is going to give a keynote speech under a topic called 'Cross Industry, Cross Border with Distributed AI' and give directions of financial environments that are rapidly changing. Vice-President Han is also the first person in South Korea to oversee a global comprehensive payment platform network called 'GLN (Global Loyalty Network)'.
Smart Card and biometric are also hot issues within payment markets.
CEO Bae Jae-hoon of Brilliantts is going to start a conversation about a Smart Card called 'FuzeCard'. Vice-Chairman Choi Woon-ho of The Korean Association for Policy Studies is going to provide important information regarding changes that biometrics bring to payment markets.
Besides these keynotes, various lectures under topics called 'Rediscovery of Blockchain Financial Industry through Digital Innovation (Senior Advisor Park Sae-yeol of IBM)', 'Innovative Financial Ecosystem through Connection (Team Leader Kim Bong-kyu of Nonghyup Bank FinTech)', 'Blockchain and Industry 4.0 (Professor Lee Won-boo of Dongkuk University)', and 'Connected to Finance, Industrial B2B Market (CEO Yoon Wan-soo of Webcash)' are going to be held at this conference.
Smart Finance Conference, which is going to be held for the 7th time, sold out pre-registrations for 6th times in a row and has placed itself as the most reputable event that represents FinTech.
Staff Reporter Gil, Jaeshik | osolgil@etnews.com