Audi became the first foreign automotive manufacturer to obtain an approval to temporarily drive its self-driving cars on actual streets and roads in South Korea. Its self-driving car that is based on its flagship sedan 'A8' can drive on its own under 60km/h by using its sensors and AI (Artificial Intelligence) technologies. Audi is planning to increase level of completion of self-driving technology in South Korea by collecting information on traffic and roads in South Korea.
According to Ministry of Land, Infrastructure and Transport (MOLIT) and Audi Volkswagen Korea, 'Audi A8 self-driving car' will become the first foreign self-driving car to be tested of its technologies on actual roads in South Korea.
Industries believe that other foreign manufacturers such as Benz, BMW, and Nissan will soon start to bring in their self-driving cars to South Korea. It is a must to obtain data and local information along with level of completion to have perfect self-driving cars. It is likely that Audi and other foreign automotive manufacturers will have various partnership with South Korean automotive manufacturers and information providers during this process.
At '2017 Frankfurt Motor Show', Audi introduced its new 'A8' that was installed with self-driving technologies that corresponded to 'level 3' based on SAE's (Society of Automotive Engineers) standards. Ai technologies of this new A8 use 6 different cameras and laser scanners to help A8 change lanes and avoid obstacles. A8 can also self-drive under 60km/h on freeways with central dividers and roads with many lanes and it can also perform self-driving technology within cities where there are huge amount of traffic.
A8 that is approved by South Korean Government is also installed with same level of technologies. A8 that will be tested has ADAS (Advanced Driver Assist Systems) such as LKA (Lane Keep Assist), Predictive ACC (Adaptive Cruise Control), ACA (Adaptive Cruise Assist), and FCW (Forward Collision Warning) as basic functions. Corresponding systems can be operated with single button and they can always be used to control A8 depending on drivers' intentions. A8 is also installed with conditional self-driving technologies such as radar and LIDAR (Light Detection and Ranging) for detecting surrounding objects, cameras, and central driver assistance controller (zFAS).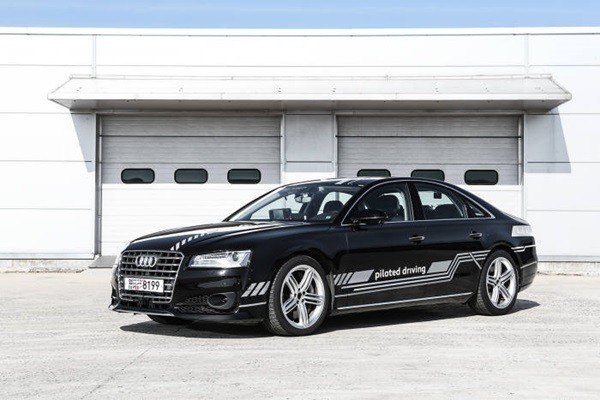 zFAS is an important device that plays a role of a brain of AUDI's self-driving technologies. AI TJP(Traffic Jam Pilot) system that plays a role of a driver is designed after considering Built In Redundancy that prevents any malfunctions. It is the world's first system that utilizes laser scanners with cameras and it scans entire front side of Audi. Data that is inputted through sensors is processed by zFAS, which creates accurate pictures and images with speed that can capture 2.5 billion cases per second.
MOLIT introduced a system that approves test-drive of self-driving cars in February of 2016 to support development of self-driving technologies by private companies and it provides accurate traffic information for free. So far 40 self-driving cars developed by 17 South Korean businesses such as Hyundai Motor Company (15), Seoul National University (4), Samsung Electronics (2), Electronics and Telecommunications Research Institute (2), Korea Transportation Safety Authority (2), and SK Telecom (1) received approvals from South Korean Government.
Audi applied for an approval after looking at the fact that South Korean Government is not hesitant about providing its support such as 'K-City', which is a test site for self-driving cars, and accurate road maps to commercialize 'level 3' self-driving cars by 2020. For safety, MOLIT limited Audi to test its self-driving car only on freeways and other roads just for cars. It received a pledge from Audi that it will not go outside of maps and that it will not approach national security facilities.
"We are going to collect data that is related to traffic and road situations in South Korea through continuous test-drives and prepare foundation for R&D on next stages of self-driving technologies." said President Rene Koneberg of Audi Volkswagen Korea Group.
Staff Reporter Ryu, Jongeun | rje312@etnews.com