Samsung Electronics introduced its new 2018 QLED TVs that are based on 'intelligent display' that eliminates any limited connection between surroundings, types of contents, and devices. After they are released in U.S. market on the 18th, they will be released to other global markets sequentially. Samsung Electronics has maintained first place in global TV market for 12 years in a row.
Samsung Electronics held 'The First Look 2018 New York' in New York on the 7th (U.S. time) to introduce its new 2018 QLED TVs. This event was held at the old stock exchange building with 800 people such as global media and major customers in attendance. At this event, Samsung Electronics introduced its vision for future TVs and its major 2018 TVs.
2018 QLED TV series is composed of 4 series (Q6F, Q7F, Q8F, Q9F) and 16 models from 49-inch display to 88-inch display. All 4 of these series include displays that are bigger than 75 inches.
Samsung Electronics emphasized new QLED TVs as 'intelligent display'. They either provide daily information such as weather or news in real-time whenever they are not used or provide 'Ambient Mode' that plays pictures or images along with background music. They are also applied with AI-based voice recognition platform called 'Bixby' and they are equipped with 'One Invisible Connection' that combines every surrounding lines and power cords into single transparent cable.
'Ambient Mode', which increases utilization, innovates usability of TV and provides new lifestyles to consumers. Sensor, which automatically controls intensity of illumination, provides optimal brightness depending on surroundings and helps reduce electricity consumption.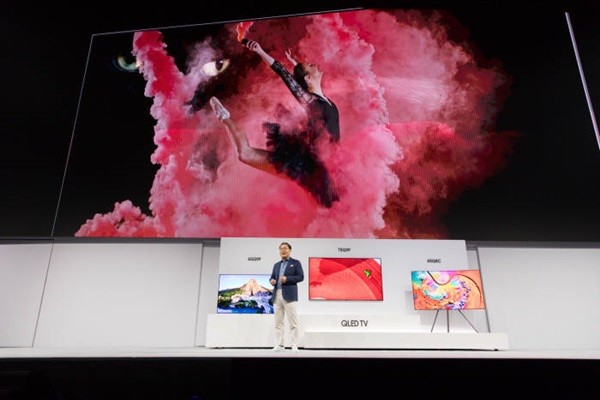 Samsung Electronics prepared various partnerships to increase utilization of Ambient Mode. It partnered with New York Times to provide news contents and it also joined hands with Spotify, which is a music streaming service provider, so that one can play music along with visual contents such as pictures and images just through his or her voice.
AI (Artificial Intelligence) technologies also differentiate 2018 QLED TVs from other TVs. Samsung Electronics enhanced Smart functions of 2018 QLED TVs by applying 'Bixby' and Samsung Electronics' IoT (Internet of Things) service application called 'SmartThings App'.
'SmartThings App' automatically sends home Wi-Fi information that is stored within a Smartphone and one's Samsung account to QLED TVs. QLED TVs can automatically recognize surrounding devices that are compatible with 'SmartThings Cloud' and they can easily register, control, and monitor these devices. 2018 QLED TVs also support iOS on top of Android OS.
Samsung Electronics also introduced new 'One Invisible Connection' that connects every lines and even a power cord into single transparent cable.
"TVs now have to be redefined depending on various surroundings." said President Han Jong-hee of Samsung Electronics' Video Display Business Department. "Not only QLED TVs provide the best quality and best sense of immersion that quantum dot can implement but they also provide various values even when they are not used."
Staff Reporter Kwon, Keonho | wingh1@etnews.com