"I am going to visit National Assembly, South Korean Government, and sponsors to have them execute separate contracting system for information communication contractors. I am also going to create new markets for information communication contractors and become a 'window' to establish intimate relationship between members."
President Jung Sang-ho of Hi-Tech, who was elected to be the 22nd chairman of Korea Information & Communication Contractors Association (KICA) on the 27th, promised two things.
His first promise is to remove obstacles that impede growth of information communication contractors. It is estimated that there will be more than 10,000 information communication contractors in 2018. While this number continues to increase, management continues to become worse. Chairman Jung believes that worsened managements are not just the results of simple market conditions. "Other industries are asking for abolition of separate contracting system for information communication contractors by saying that they are doing to ease regulations." said Chairman Jung. Chairman Jung considers himself as the vanguard that will establish separate contracting system.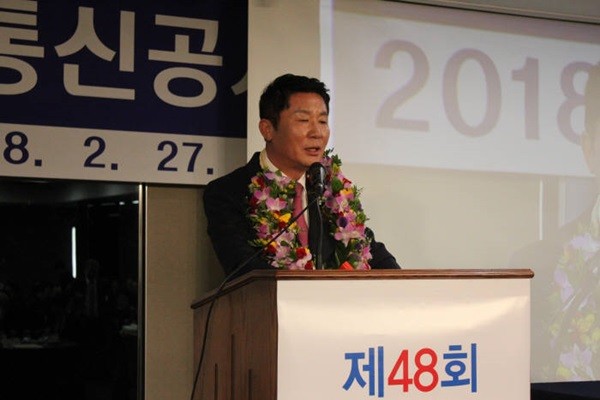 He is also going to focus on protecting small and medium information communication contractors. Damages from large corporations establishing subsidiaries, entering information communication contracting businesses, and giving all of their workloads to their subsidiaries are becoming more serious. "Unfair internal trades are long existing malpractices that need to be eliminated." said Chairman Jung. "KICA is going to do its best to improve legal systems so that information communication contractors are not affected from these unfair trades." KICA is also planning to establish monitoring system that monitors any unfair bidding conditions at all times. It is going to establish a support system that allows small and medium companies to participate in large-scale contracts if they are capable of taking such contracts.
His second promise to find businesses for information communication contractors. He promised to prepare solutions that will help them to enter markets that will become new driving forces for them so that they are not simply tied to contracting businesses. "ICT (Information Communication Technology) such as AI (Artificial Intelligence) and others are combined with other industries and are creating new markets." said Chairman Jung. "We are going to provide information and education so that our industries can lead Industry 4.0 and create new businesses." KICA is also going to help them with pioneering foreign markets as well. His goal is to improve constitution so that they can survive in markets that are changing rapidly.
Chairman Jung promised that he is going to work on balance between companies from different regions. He is planning to prepare quarterly meetings with regional information communication contractors and collect opinions and have discussions with them. "We are going to push for businesses that are specialized to certain regions as we enter a generation of decentralization." said Chairman Jung. "We are going to put our heads together so that information communication contractors can have medium and long-term growth."
Staff Reporter Kwon, Dongjoon | djkwon@etnews.com