SK Telecom has secured a bridgehead that will help SK Telecom to target global quantum information communication markets that are estimated to be worth $25.1 billion (27 trillion KRW) in 2025. Its plan is to become the world leader in quantum information communication industry.
SK Telecom acquired IDQ, which is the world leader in quantum crypto communication from Switzerland, in Barcelona, Spain on the 25th (Spain time). SK Telecom obtained more than 50% of IDQ's shares for a bout $65.1 million (70 billion KRW) and it has become the major shareholder of IDQ. Additionally, SK Telecom's Quantum Tech Lab is going to make contribution in kind. Entire acquisition process will be finalized during the first half of this year.
IDQ, which was established in 2001, is the world leader in quantum crypto communication that released QRNG (Quantum Random Number Generators) and QKD (Quantum Key Distribution) in 2002 and 2006 respectively. SK Telecom invested $2.33 million (2.5 billion KRW) in 2016 and it has continued its close relationship with IDAQ by co-developing QRNG.
"We acquired IDQ in order to improve our competitive edge in quantum information communication and to target global markets." said President Park Jung-ho of SK Telecom. "We will be able to create synergy by combining SK Telecom's patented quantum technologies and its abilities in management of telecommunication network and IDQ's original patents, researchers, partnership, and products related to quantum crypto communication." CEO Gregoire Ribordy of IDQ said that IDQ is going to look to accelerate development of leading technologies with SK Telecom.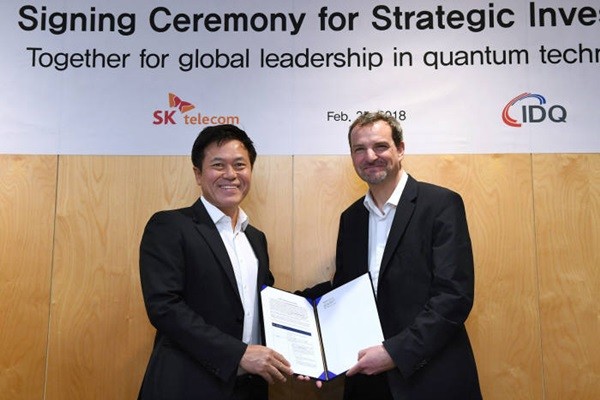 By acquiring IDQ, SK Telecom is going to focus on quantum crypto communication markets as well as global quantum information communication markets. First, it is going to target North America, Europe, the Middle East, where IDQ has partners for quantum crypto communication industry. SK Telecom is going to supply chips and modules that are applied with QKD and QRNG technologies for various IoT (Internet of Things) devices, servers, and mobile devices of governments, telecommunication companies, and financial institutions.
In order to lead quantum information communication revolution, it is going to continuously push for commercialization of QTTH where quantum technologies are used by general wired internet users in 2020 and commercialization of quantum crypto satellite technologies in 2022 after starting with development of quantum repeaters that can perform N:N quantum crypto communication by end of this year.
SK Telecom is going to look to expand its business area based on IDQ's technologies on quantum sensor. By using these technologies that can measure super accurately, it is going to pioneer quantum information communication industries in various fields such as self-driving car, satellite, biology, and semiconductor. IDQ's technical skills are recognized globally as it supplied its solutions on quantum sensor to ESA (European Space Agency) for its next-generation rocket called 'Ariane 6'.
SK Telecom is also going to apply quantum information communication technologies within South Korea. It is going to apply quantum crypto communication to 5G mobile network after an auction for frequencies that will take place in June. Its goal is to provide 'most safe 5G network' by introducing quantum crypto communication, which makes wire-tapping impossible due to principles of quantum physics.
"During 5G generation, when objects will become wireless, 'safety' will become a new paradigm for telecommunication." said President Park. "We are planning to provide the most safe 5G network to our customers."
Even after acquiring IDQ, SK Telecom is going to entrust CEO Ribordy with management of IDQ so that IDQ can just focus on its business and development of its technologies.
Staff Reporter Kim, Yongjoo | kyj@etnews.com