Intel, which is an official partner of Olympics, is going to provide improved view of Olympic events through its new technologies.
Intel held 'Intel House' near Kyungpo Beach in Gwangwon-do on the 7th and demonstrated its 5G, drone, and VR (Virtual Reality) technologies. Intel explained that these technologies are applied to stadiums where Pyeongchang Winter Olympics is going to be held and various places in Pyeongchang and that they will provide new experience in watching sporting events.
Intel along with KT are going to demonstrate 5G services at this Olympics. Intel has provided base stations, network infrastructures, and 5G modem chips for mobile devices.
"While 5G standards are being established, Intel has worked with KT and implemented actual 5G services through connected cars, VR, drones, and tablets." said Vice-President Julie Coppernoll who oversees Intel Client Computing 5G Marketing Department. "We are certain that we will be able to commercialize relevant solutions faster than any others even when 5G standards are set." Intel's strategy through this Olympics is to plant perception into people in different countries to think that '5G leads to Intel'.
5G telecommunication technologies of Intel and KT will be applied to cross country ski events at Pyeongchang Winter Olympics. They collect data and quickly send it to a central server and provide it to viewers as VR contents after analyzing and processing it. Self-driving cars that are connected to 5G telecommunication technologies will also make their first appearances at this Olympics.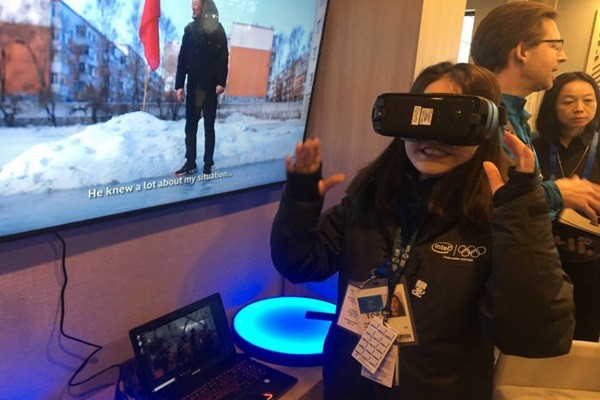 Intel's VR technologies will also be applied to many sporting events. Intel has cameras and software technologies that can develop VR contents based on actual images and Intel calls this technology as 'True VR'.
True VR Technology will be applied to 30 events such as alpine skiing, half-pipe snowboard, figure skating, speed skating, ice hockey, curling, ski jump, and downhill ski runs. By having Samsung Electronics' Gear VR, Google's Daydream VR, or Oculus VR headset, on can watch games in VR by downloading Pyeongchang Winter Olympics application.
'Drone Show', where hundreds of drones are going to fly at the same time, is expected to be the highlight of the opening day of Pyeongchang Winter Olympics. Intel was registered on the Guinness Record by having five hundred of drones fly at the same time. It will be interesting to see whether it can rewrite its record on the opening day of this Olympics.
"Technology that can fly drones at the same time and control them requires advanced technologies." said Vice-President Anil Nanduri of Intel's Drone Group. "Intel is planning to display its technical skills by introducing its commercialize drone called Falcon 8+ that is integrated with cameras, sensors, telecommunication, and motor control during this Olympics period."
Fifty or so reporters from different countries such as U.S., Japan, Taiwan, Europe, and South Korea attended Intel House. During this Olympics period, Intel is going to invite customers and relevant personnel from different countries and show them its state-of-the-art technologies that are applied to many sporting events.
Staff Reporter Han, Juyeop | powerusr@etnews.com