Possible moves by Vice-Chairman Lee Jae-yong of Samsung Electronics, who was released from a detention center, are drawing attention from financial industries. Since 'recovery of leadership by Samsung is so urgent, many industries believe that Vice-Chairman Lee will return to management as early as possible. However due to different reactions from South Koreans towards Vice-Chairman Lee being released, some predict that Vice-Chairman Lee will draw up huge ideas while acting silently for a while.
According to Samsung Electronics and industries on the 6th, Vice-Chairman Lee has not made any particular plans since he visited Chairman Lee Kun-hee of Samsung at Samsung Medical Center on the 5th. Although some predicted that he will check condition of the company by visiting Samsung Electronics or the company building in Seocho and discuss with executives about future plans, he did not go to work. It is heard that Vice-Chairman Lee, who came out of his house in Hannam-dong at 9:30 A.M., met with Samsung Electronics' major executives at an undisclosed location. "As of now, schedule of Vice-Chairman Lee is not shared publically." said a representative for Samsung Electronics. "When his schedule is decided, we will move internally according to his schedule."
Vice-Chairman Yoon Boo-keun, who attended Minister Baek Woon-kyu of Ministry of Trade, Industry and Energy's morning speech that was held under The Korea Chamber of Commerce & Industry on the 6th, was also careful on next possible moves of Vice-Chairman Lee. Vice-Chairman Lee who met with reporters did not give clear answers on whether or not Vice-Chairman Lee will attend the opening day of Pyeongchang Winter Olympics and when he is going to return to management.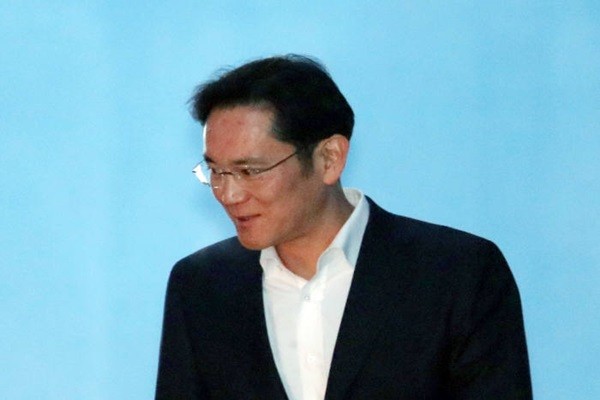 Industries predict that Vice-Chairman Lee will return to management as early as possible in order to set its group, which had been inactive for about a year, back in order. Many predict that Samsung will make its first move by putting out a program that will restore trusts from South Koreans. "Act of converting Samsung Electronics' stock splits from royal stock to citizenship ownership is part of Samsung Electronics' plans to meet expectations from societies." said a representative for a financial industry. "Samsung Electronics is going to actively invest into CSR (Corporate Social Responsibility) activities."
It is expected that Samsung Electronics will also work on accelerating its process of securing new driving forces that had progressed slowly due to absence of Vice-Chairman Lee. There was not single large-scale M&A just like M&A with Harman since Vice-Chairman Lee was imprisoned. It is expected that Samsung Electronics will look for new businesses through M&A and be active on making investments into new businesses such as IoT (Internet of Things), AI (Artificial Intelligence), and self-driving cars. "I believe that Samsung Electronics will have to work even hard for a speedy management." said Vice-Chairman Yoon regarding the directions of Samsung's management since Vice-Chairman Lee was released.
Some predict that Samsung Electronics will not make any active moves for awhile as Samsung and a prosecutor team led by Special Prosecutor Park Young-soo both announced their intentions to appeal the verdicts from the second trial to Supreme Court of Korea. They think that Samsung Electronics will act silently for a while as political world and South Korean citizens are divided towards Vice-Chairman Lee's release.
Staff Reporter Kwon, Dongjoon | djkwon@etnews.com