Netmarble Games is going to create a game based on a South Korean idol called Bangtan Boys.
"We are going to release BTS World through a mobile platform by the end of the first half of this year." said Chairman Bang Joon-hyuk of Netmarble Games at NTP (Netmarble Together Press) that was held at D-CUBE CITY on the 6th. BTS world will be based on a new genre that combines cinematic pictures and tracks, photo shoots, and life simulation.
Bangtan Boys is a K-Pop group that is very popular in overseas. Big Hit Entertainment made $32.8 million (35.5 billion KRW) in sales just from Bangtan Boys in 2016 and it is estimated that its sales doubled in 2017. Chairman Bang Joon-hyuk of Netmarble Games and CEO Bang Si-hyuk of Big Hit Entertainment are close cousins.
Bangtan Boys will provide more than 100 pictures, more than 10,000 photo shoots, and tracks for BTW World. Chairman Bang emphasize that BTS World is a global project.
Netmarble Games made more than $924 million (1 trillion KRW) in sales through 'Lineage II Revolution' in 2017. Netmarble Games made about $2.24 billion (2.4248 trillion KRW) in annual sales in 2017 and 54% of them came from foreign markets. Lineage II Revolution especially drew more than 70% of its sales in foreign markets.
Netmarble Games introduced three large-scale MMORPGs such as 'Blade & Soul Revolution' and 'Seven Knights 2' and new games such as 'Harry Potter' and 'The Seven Deadly Sins (working title)' on the 6th.
It also introduced 'Koongya Catch Mind' and 'Koongya Green Village' using 'Koongya' characters, which are Netmarble's original IP (Intellectual Property). Along with its first strategic game called 'First Born', it also introduced various new games such as 'Knight of the Round (working title)', 'Rich Ground (working title)', and 'Magu Magu (working title)'.
Netmarble is also going to expand its scope towards console and PC games. It is going to develop 'Seven Knights' as Nintendo switch title and it is going to invest into about 30% of shares of Neostream Interactive, which developed a Steam and console game called 'Little Devil Inside'.
Netmarble is going to establish an AI (Artificial Intelligence) game center sometime during the first half of this year to develop intelligent games and it is preparing AI labs in North America to attract talented people in a field of AI globally.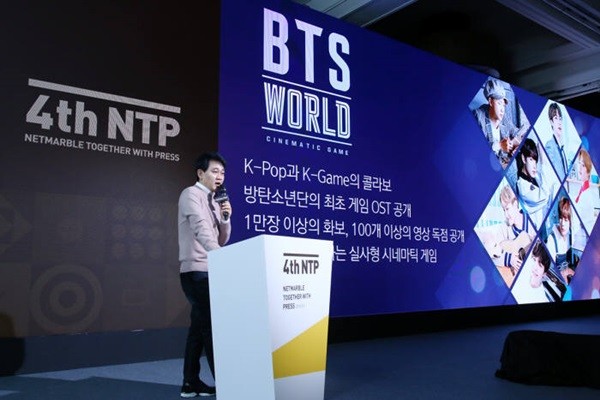 "Speed is very important amongst global game markets and development speed of our game industries including ourselves are slowing down compared to our competitors in China." said Chairman Bang to reporters at NTP. "It is effective to start developing games earlier than competitors by predicting markets in advance."
"Rather than seeing blockchain and virtual currencies as means to replace real money, they are ground-breaking ways to monetize intangible assets." said Chairman Bang regarding blockchain and virtual currency that have emerged as hot topics globally.
"Although there may be side-effects such as speculation at first, they will be solved eventually as they get incorporated into societies." said Chairman Bang. "Right now is a time to consider future changes that blockchain will bring." Netmarble Games was recently involved in a rumor of acquiring a virtual currency exchange called Bithumb. However, it officially denied such rumor.
"I really do not have anything to say." said Chairman Bang regarding this rumor. "Businessmen always meet with different people and blockchain is no exception."
"Suspension of issue of license is being delayed longer than expectations." said Chairman Bang regarding Chinese Government not giving approvals to South Korean game developers to distribute their games amongst Chinese markets. Chinese Government has not given approvals unofficially since March of 2017.
'Lineage II Revolution' is seen as one of games that will benefit the most once Chinese Government resumes issuing approvals again. "It is sad to see how Chinese games are being imported to South Korean markets and South Korean games not being exported to Chinese markets." said Chairman Bang.
Staff Reporter Kim, Siso | siso@etnews.com