Hyundai Motor Company introduced its fuel cell electric vehicle, which is the signature vehicle for eco-friendly vehicles, called 'NEXO' in South Korea for the first time. It can drive up to 609km with single charge and it can go 107km more than Toyota's 'Mirai (total range: 502km)', which is currently number one in global sales.
Hyundai Motor Company held 'NEXO Media Experience Day' at its Motor Studio in Goyang on the 5th and introduced main functions of 'NEXO', which is expected to be released next month.
NEXO has a total range of 609km and it easily surpasses Hyundai Motor Company's initial goal which was 580km. Currently it has the longest total range out of all fuel cell electric vehicles that are currently on markets.
NEXO's mixed mileage is 96.2km/kg (based on 17-inch tire) and it can charge 6.33kg of hydrogen at once. These specifications are the results of Hyundai Motor Company's high-efficiency next-generation fuel cell battery system that allows NEXO to store bigger amount of hydrogen as it increases storage density and storage capacity of hydrogen within a hydrogen tank. It takes less than 5 minutes to charge NEXO, and this time is 40% better than how long it takes to charge the first-generation Tucson (total range: 415km based in South Korea).
NEXO presents Hyundai Motor Company's three future mobility visions such as Connected Mobility, Freedom in Mobility, and Clean Mobility and it is based on a philosophy of making future automotive technologies present.
Hyundai Motor Company developed NEXO while primarily focusing on its safety. Hyundai Motor Company carried out safety certification tests such as firing and bursting of hydrogen tank and examined safety of hydrogen under unfavorable conditions again on top of current collision tests. It also added more safety to entire car in case of collisions by applying a front structure that drastically improves a car from a head-on collision and a body structure for protecting a hydrogen tank.
Also, Hyundai Motor Company has secured durability of NEXO's major parts such as fuel cell battery system, motor, decelerator, and battery and it developed 99% of such parts through its own independent technologies.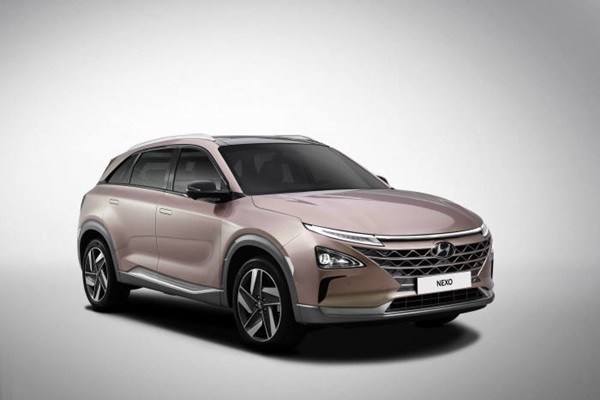 Wide loading space is another strength of NEXO. NEXO is the first fuel cell electric vehicle in the world to be applied with hydrogen storage system, which is designed through a system with same three tanks, and it has equal level of dwelling ability as other comparable SUVs with internal-combustion engines and wide loading space of 839 liters (based on Society of Automobile Engineers (SAE)).
NEXO's biggest strength is its ADAS (Advanced Driver Assistance Systems) that is integrated with Hyundai Motor Company's state-of-the-art technologies. Hyundai Motor Company also increased level of safety and convenience of NEXO by having its 'RSPA (Remote Smart Parking Assist', which automatically supports parking and getting out of a parking lot when a person is on board or not, work on highways and normal streets and applying 'LFA (Lane-Following Assist)' that maintains a car to be at the center of a line when it is going between 0 and 150km/h.
Hyundai Motor Company's goal is to sell total of 10,000 fuel cell electric vehicles by 2022 according to South Korean Government's plan on dissemination of eco-friendly vehicles. "Hyundai Motor Company has been making bold investments and working on R&D in a field of fuel cell electric vehicle that has been recognized as the ultimate eco-friendly vehicle since 1998." said Department Head Kwon Moon-sik of Hyundai Motor Company's R&D Headquarters. "People will be able to see future mobility through NEXO."
On the other hand, Hyundai Motor Company is planning to expand its charging infrastructures with South Korean Government, local governments, and private energy companies starting with Yeoju Rest Area and make some of its charging stations for fuel cell electric vehicles open to public. Also, it is going to have 22 of its centers be in exclusive charge of doing maintenance on fuel cell electric vehicles by strengthening its maintenance network for fuel cell electric vehicles and increase duration of warranty of parts for fuel cell batteries from 5 years and 100,000km to 10 years and 160,000km.
Starting from the 9th, it is going to carry out trial rides of NEXO and NEXO with 4-stage self-driving technologies (based on SAE) and new IT technologies for customers who are going to visit Gangneung and Pyeongchang.
Staff Reporter Park, Taejoon | gaius@etnews.com