Vice-Chairman Lee Jae-yong of Samsng Electronics was given probation during his second trial. Due to a verdict from the second trial, he was released from his imprisonment that lasted 33 days. Judge panel from the second trial saw him not guilty on most of suspicions such as 'zeroth private meeting' and 'implied request for succession of management right'.
Seoul High Court's 13th Criminal Department (Chief Prosecuting Attorney Jung Hyung-shik) reversed verdicts that came from the first trial of Vice-Chairman Lee, who was prosecuted due to suspicions of giving bribes to Former President Park Gun-hye and Choi Soon-sil, during the final trial of the second trial and sentenced him 2 years and 6 months of imprisonment and 4 years of probation.
His sentence was greatly reduced from the first trial when he was sentenced 5 years of imprisonment. Above everything else, he was given probation which helped him from being imprisoned. He was released after being imprisoned by a team led by Special Attorney Park Young-soo on the 17th of February of 2017.
"I am sorry once again for not showing a better sight of me." said Vice-Chairman Lee as he as leaving a detention center. "Past year was a very precious time for me to look back and I am going to examine myself even more carefully from now on." However he was careful on what he said about what his next courses are going to be."
Along with Vice-Chairman Lee, all of Samsung Electronics' managements who were also imprisoned were also released on the same day as they were given probations as well. Seoul High Court sentenced Former Department Head Choi Ji-sung of Samsung's Future Strategy Office, Former Deputy Department Head Jang Choong-ki of Samsung's Future Strategy Office, and President Park Sang-jin of Samsung Electronics 2 years of imprisonment and 3 years of probation. Seoul High Court sentenced Former Executive Director Hwang Sung-soo of Samsung Electronics 1 year and 6 months of imprisonment and 2 years of probation.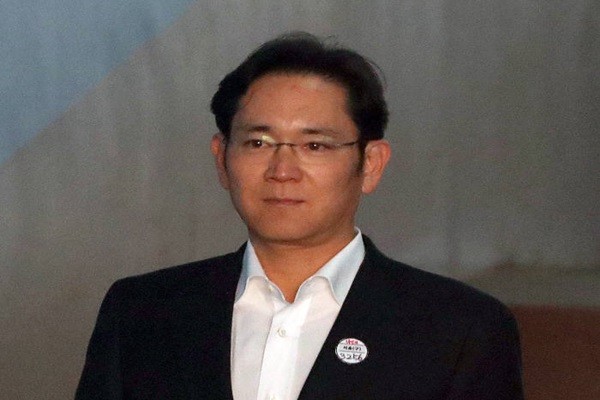 Main reason why the verdict from the first trial as overturned was because Vice-Chairman was found not guilty of 'zeroth private meeting' and 'implied request for comprehensive pending problem', which were key issues of this prosecution.
"It is difficult to admit that a comprehensive pending issue called Samsung's succession process existed." said the judge panel from the second trial. "We cannot see that there was implied request for a succession process." Also regarding 'An Jong-beom's notebook', which was presented as a main evidence by the special prosecutor team, the judge panel eliminated it as a possible evidence by saying that it cannot be even used as an indirect evidence.
The judge panel from the second trial only saw support of horseback riding as bribery just like the judge panel from the first trial. "Former President Park requested bribes from Vice-Chairman Lee and Choi Soon-sil was the recipient of these bribes." said the judge panel from the second trial while acknowledging complicity between Former President Park and Choi Soon-sil. The judge panel also acknowledged acts of giving service payment of $3.29 (3.6 billion KRW) to Core Sports and letting Choi Soon-sil use horses and vehicles for free as bribery.
Along with bribery, the judge panel found Vice-Chairman Lee innocent of a suspicion of flying one's assets abroad. The judge panel also found Samsung giving donations of $1.628 (1.628 billion KRW) and $20.4 (20.4 billion KRW) to Korea Winter Sports Elite Center and Mir, K-Sports Foundation respectively not guilty.
Special prosecutor team objected the verdict from the second trial and announced its position that it will be preparing for an appeal. Attorney team for Vice-Chairman Lee is also planning to appeal suspicions that were still found guilty.
"We want to sincerely show a sign of respect towards the judge panel, who found Vice-Chairman Lee not guilty of his suspicions, for their courage and wisdom." said Senior Staff Attorney Lee In-jae of BAE, KIM & LEE LLC who was in charge of representing Vice-Chairman Lee. "However for some of arguments that were still not accepted, we are going to do our best to disclose them during an appeal hearing."
Staff Reporter Kwon, Keonho | wingh1@etnews.com & Staff Reporter Kwon, Dongjoon | djkwon@etnews.com