Samsung Electronics and LG Electronics are going to introduce many products and technologies that will improve lives of consumers in the future at world's biggest IT and electronics exhibition 'CES 2018', which is going to open its door on the 9th (U.S. time). They have applied AI (Artificial Intelligence) and IoT (Internet of Things), which are the biggest topics for global electronics industries, to their products and technologies and they are going to present new values that were not available for consumers in the past. They have expanded ranges of their businesses to self-driving technologies from IT devices and home appliances and they are going to introduce module-type micro LED TV and others for the first time at CES 2018.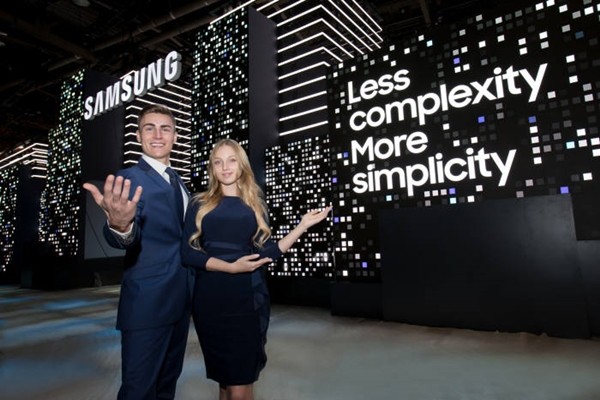 Samsung Electronics is going to introduce future lifestyle solutions that are based on AI and IoT. It is going to prepare the biggest exhibition room (2,768m2) out of all participants and it is going to exhibit various environments such as living space, work space, and cars that are encountered in daily lives as themes depending on its 'Samsung City' concept.
On a whole company level, Samsung Electronics unified Cloud for IoT services under 'Smart Things' and expanded connectivity. Its Bixby technology allows one to easily control and link IoT home appliances and electrical devices through 'Smart Things application'. It is also going to demonstrate 'Ambience' scenario, which was introduced for the first time at 'Samsung Developers Conference' that was held in October of 2017, through IoT technologies. When Ambience module, which is available as a dongle or a chipset, is applied, any objects such as flower pots or lights can change into devices with speaker and microphone functions by linking them to Bixby. For example, one can give a command such as "turn on air conditioner' towards a flower pot or request a mirror in bathroom for information on schedules.
Samsung Electronics is going to introduce major display technologies that will become its future businesses as well. Its 146-inch 'The Wall TV', which received CES 2018 Best Innovation Award, is applied with micro LED and is a spontaneous emitting display that expresses three primary colors without color filters. It has excellent brightness, light and shade ratio, color reproduction ability, field of view, lifespan, and durability and it boasts best quality out of current displays that are on markets. Another strength is that it is the world's first modular TV that allows one to customize size, ratio, and shape depending on their needs.
Samsung Electronics is also going to exhibit '2018 Family Hub' Refrigerator, which was awarded Best Innovation Award for three years in a row since 2016, and four types of premium built-in kitchen appliance package called 'Chef Collection Lineup', which received Innovation Award.
It is going to exhibit new semiconductor products that are applied with innovative technologies that will lead mobile and AI generations at a separate location for consultation.
It is also going to introduce self-driving solutions and technologies on electrical devices such as 'Digital Cockpit', which was developed by working with Harman, for the first time. 'Bixby' for cars and 'Smart Things' are applied to Digital Cockpit that allows one to control functions inside of a car through is or her voice.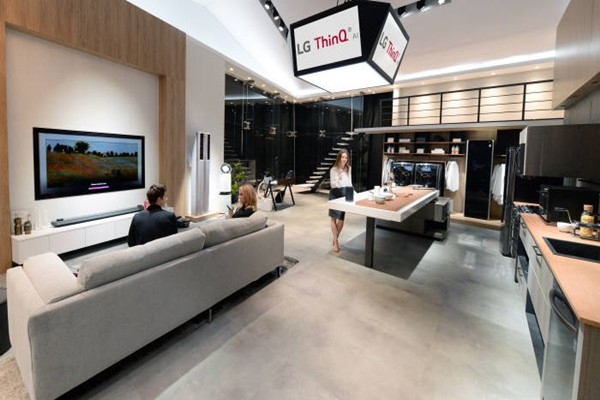 LG Electronics is going to introduce AI solutions for 'better lives'.
It is going to prepare a booth with an area of 2,044 m2 and introduce differentiated AI home appliances, OLED TVs that are on a different level, and ultra-premium home appliance 'LG Signature' according to its slogan 'Innovation for Better Life'. It is also going to introduce 18 of its products that received CES Best Innovation Award and Innovation Award.
It set up super-large-scale OLED sculpture that will draw attention from spectators at the entrance of its booth by using 246 'OLED flexible signage'. It is also going to set up large-scale AI exhibition zone called 'LG ThinQ Zone'. 'LG ThinQ' is LG brand that covers AI products and services.
It is going to present a 'space' that is identical to an actual living space by having a living room, kitchen, and laundry room and it is going to arrange its products that are applied with its AI platform 'Deep ThinQ' and outside AI technologies. It is going to exhibit a portfolio of various industrial robots such as serving robot, porter robot, and shopping cart robot in order to present an experience of AI technologies that continue inside and outside of a house without boundaries.
It is also going to announce 'LG ThinQ TV' that has become even smarter through AI and 'OLED TV' that provides even more perfect quality as it is equipped with its quality chip called 'Alpha 9'. It is also going to introduce 'Super Ultra HD TV that has improved light and shade ratio by having 'full-array local dimming' technology on top of 'Nano Cell' technology.
It is also going to prepare a private booth where it is going to introduce its major automotive parts for next-generation cars to global automotive manufacturers. It has set up a private booth regarding automotive parts at CES every year since 2014. It is going to exhibit various next-generation automotive parts such as automotive infotainment devices, devices such as ADAS (Advanced Driver Assistance System) camera and others for self-driving technology and convenience, and lighting solutions.
"We are going to lead markets with AI products that place people at the center and provide differentiated values to our customers through advanced technical skills and premium products with innovative design." said Director Han Chang-hee of LG Electronics' Global Marketing Center.
Staff Reporter Kwon, Keonho | wingh1@etnews.com