LG Electronics is going to incorporate best quality to its 2018 TVs and it is also going to add AI (Artificial Intelligence) to them.
LG Electronics made an announcement that it is going to introduce 2018 'ThinQ TVs' such as 'OLED TV ThinQ' that is applied with AI and 'Super Ultra HD TV ThinQ' at 'CES 2018'.
'LG ThinQ TV' is applied with LG's AI platform 'DeepThinQ' and Google AI assistant 'Google Assistant' and it provides convenient and various TV experiences.
LG ThinQ TV users can easily control various TV functions such as change of screen modes, change of channels, and volume control by utilizing natural language voice recognition function. LG ThinQ TV can also be easily connected to other electronic devices such as TVs and sound bars, Blu-ray players, and game consoles.
Although users had to push buttons several times in order to change functions or settings in the past, LG ThinQ TV users can simply give commands while pressing a voice recognition button on a magic remote. For example, they can control TVs by giving voice commands such as "Change to cinema mode", "Turn this program after it is done", or "Connect to a game console".
Searching for contents is also convenient through LG ThinQ TV. When a user gives a command like "Show me Google Photo's pictures that were taken from last year in Las Vegas", it is able to find and show corresponding pictures from his or her Google Photo account. On questions such as "Who is the main character of this drama" and "Tell me the summary of this drama", it is able to give answers after confirming EPG (Electronic Program Guide).
In the U.S, LG ThinQ TV users can use information search services such as schedule, scores of recent sports games, and finding of popular restaurants that are provided by Google through Google Assistant. LG Electronics is also planning to provide services such as reservation of restaurants and pizza orders through software updates in the future.
LG ThinQ TV can also control IoT (Internet of Things)-based home appliances such as air purifiers, air conditioners, robotic vacuum cleaners, and Smart Lights that can be linked to Google. LG Electronics is planning to expand number of countries that are applied with Google Assistant starting with the U.S.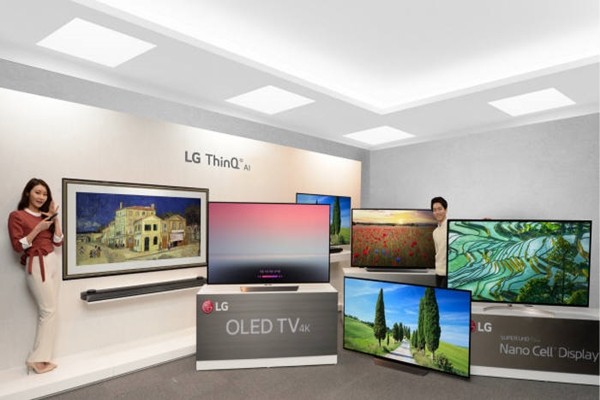 LG ThinQ TV's quality is improved through LG Electronics' chip called 'Alpha 9'. OLED TVs that are applied with Alpha 9 reduce amount of noise by half compared to current products. They provide clear images by removing small blemish from screens through four stages of noise reduction processing. Alpha 9 also improves brightness, resolution, and 3D effect by analyzing data from images.
Algorithm for color correction has become more elaborate. Alpha 9 finely divides standard colors of color coordinates that help TVs with providing accurate colors into at least seven times in order to have TVs provide accurate colors.
OLED TVs that are applied with Alpha 9 support 4K resolution HDR (High Dynamic Range) HFR (High Frame Rate) images and provide smooth movements without any dragging. Picture per second for images that are produced from HFR is at most 120 pictures and it is about 5 times more than that of movies that are mostly made from 24 pictures per second. If number of pictures per second increases, one can clearly see feet of track and field athletes without any smudge.
LG Electronics is also going to introduce Super Ultra HD TVs that add 'full array local dimming' technology to Nano Cell technology.
'Nano Cell technology', which was introduced for the first time last year, is a technology that utilizes small molecular structures that are about 1 nanometer in size. These very small molecules elaborately adjust color wavelengths in order to express more colors more accurately. This year's new products are added with full array local dimming technology and they improve brightness and blurring, which are weaknesses of LCD TVs.
New products are based on full array method that densely places LEDs on the entire backsides of their screens and not edge method that places LEDs at the edges of their screens. Because full array method can divide screens even more finely than edge method, it is good for 'local dimming'.
2018 OLED TVs and Super Ultra HD TVs play HDR images on various standards such as 'Dolby Vision', 'HDR 10', and 'HLG'. They are also applied with 'Active HDR' function that automatically corrects images that are produced from HDR 10 more elaborately. 3D sound system 'Dolby Atmos', which was only applied to OLED TVs in 2017, is going to be applied to Super Ultra HD TVs as well.
"We are going to provide experiences that were not seen before from current TVs through AI and quality that has become more perfect." said Department Head (President) Kwon Bong-seok of LG Electronics' HE Business Headquarters.
Staff Reporter Kwon, Keonho | wingh1@etnews.com