A technology that is able to implement high-performance OLED on top of fiber that is thinner than a hair has been developed and this technology will help to push forward commercialization of high-performance wearable displays.
KAIST (Korea Advanced Institute of Science and Technology, Chancellor Shin Sung-chul) made an announcement that a research team led by Professor Choi Kyung-chul of Electric and Electronic Engineering Department and Kwon Seon-il, who is going through a doctorate program, utilized 'deep coating process' that is improved so that it is suitable for 3D structure of fiber in order to implement high-performance OLED on top of very thin fiber.
Fiber-type wearable display is considered as a high-tech technology for the future. It is a field where many researches are still focusing on implementing devices. Because performance and durability of devices are absurdly lower than current flat OLED devices during a process of forming OLED functional layer thin films by soaking threads into organic solution, there have been difficulties in commercializing fiber-type wearable displays.
Research team was able to solve this problem with a new deep coating process as it broke down and optimized simple functional layer structure. It formed many functional layers and made movements of electrons easy through electronic injection layers and transport layers. It used a method that adds various substances including polyethylenimine that increases electrical performance.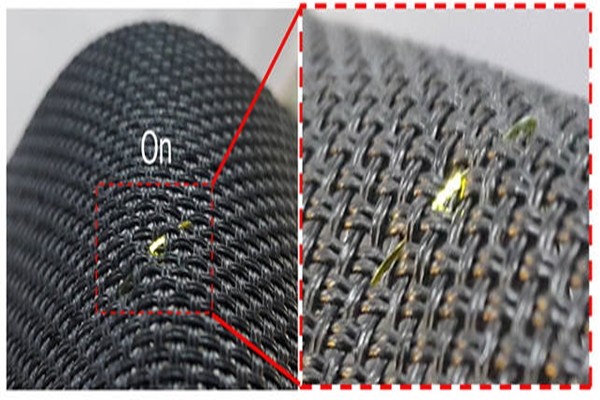 By utilizing this process, research team succeeded in implementing a material that shows brightness of 10,000cd per m2 and more than 11cd per ampere without losing its performance.
Optimized functional layers also improve durability of devices. It was shown that OLEDs maintained their performance even with 4.3% of changes in functions. There was absolutely no problem with performance even if OLED devices were directly weaved onto fiber. It is possible to form OLED on top of fiber, which is composed of 90 micrometers threads that are thinner than hairs. Because this process takes place at relatively low temperature under 105 Celsius, it is also possible to apply OLED to regular fiber that is weak against heat.
"We developed a technology that is able to produce high-performance OLED by improving current fiber-type wearable devices that have low performance." said Professor Choi. "We have opened a way towards commercialization of high-performance fiber-type wearable displays."
Staff Reporter Kim, Youngjoon | kyj85@etnews.com