China's BOE started operating its first B9 Gen 10.5 LCD production line in Hefei. Although its initial goal was to start B9's operation during the second half of 2018, it finished preparing for production by pushing forward the timing of operation by 6 months. It showed its ambition to enter global markets for premium TV panels by mass-producing super-large and super-high resolution LCDs.
BOE announced that it held a lighting ceremony for B9 line on the 20th. On this day, it invited its customers such as Samsung Electronics, LG Electronics, Sony, Vizio, Skyworth, Konka, Hisense, Changhong, TPV, Xiaomi, and Haier and also held a commemorative event by sending out samples of its 75-inch 8K resolution (60Hz, 120Hz) panels that are produced from its B9 line.
Although BOE mostly produced 32-inch LCDs from its Gen 8 lines, it has started to increase amount of production of panels that are 40 inches or bigger due to rapid increase in demands for large TVs in 2017.
During the third quarter of 2017, it even surpassed LG Display based on shares of global markets for large panels such as laptops, tablets, monitors, and TVs and rose to first place. At that time, market shares of BOE and LG Display were 21.7% and 19.3% respectively.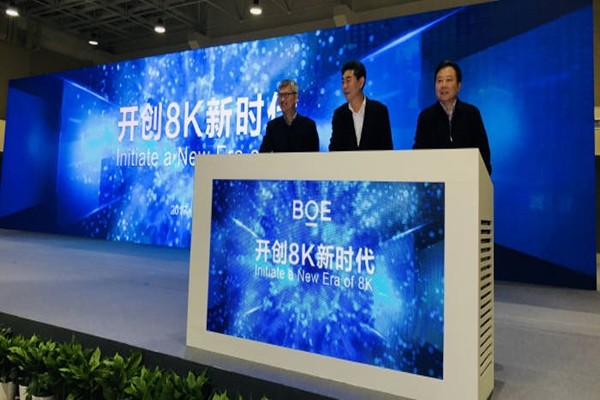 Chinese panel manufacturers are concerned about how they can penetrate premium TV panel markets that are dominated by South Korean companies. Because these markets are based on 50-inch or bigger products that are differentiated through high-value functions, it is not easy for Chinese companies to penetrate these markets. Premium products that are put out by Chinese TV set manufacturers mostly target mid-level markets because competitive edge in their brands is not up to the level of South Korean brands and they also lack technical skills.
BOEs goal is to supply its panels to major TV set manufacturers for their premium TVs. Samsung Electronics decided to release 8K super-high resolution TVs that are 75 inches or bigger in 2018, and Chinese TV set manufacturers are also preparing to increase amount of supply of its large LCD TVs. It is able to supply panels that are 75 inches or bigger, which are generally expensive, at a lower cost as chamfer efficiency of current Gen 8 lines has dropped.
Unlike Gen 8, Gen 10.5 has high competitive edge in producing 65-inch and 75-inch panels and its chamfer efficiency is at least 90%. Fact that TV markets are expected to grow based on 65-inch and 75-inch TVs starting from 2018 is a positive news for BOE. Reason why South Korean panel manufacturers are starting to increase outputs of 65-inch and 75-inch panels through MMG (Multi Model Glass) from their Gen 8 lines is to respond to actions taken by Chinese companies and to secure market demands.
BOE also set up '8425 strategy' in order to vitalize 8K resolution and 5G network. Its plan is to open 5G network markets by accelerating 8K resolution, popularizing 4K resolution, and replacing 2K resolution. Its goal is to play a leading role in developing industries that are connected entirely rather than just supplying large screens.
"In order to actually form markets for 8K resolution, changes in technologies are required in all stages of making and sending out contents." said a representative for an industry. "Although 4K UHD broadcasting is still not vitalized, supply of 8K TVs will start first just like how 4K TVs have become popularized."
Staff Reporter Bae, Okjin | withok@etnews.com