Because good characters are easily noticeable and familiar whenever and wherever people look at them, they make users happy whether they be dolls, toys, or fancy products. What makes globally popular characters such as Hello Kitty, Snoopy, and Pororo special is that they are simple, easy to remember due to their uniqueness, and have sense of closeness that makes them easily approachable. These are the basics of creating characters and the core of character business. Electural is a character contents company that has been faithful to these basics. Looking at its characters, they have elements that make them popular to a wide range of people, and some may even wonder if they are made overseas.

Electural is a creative studio and a contents business company that makes characters and animations. It develops its own characters and contents (animations, webtoons, and illustrations), and does licensing business. Although it was established in 2006, it has not been that long since it started its character contents business.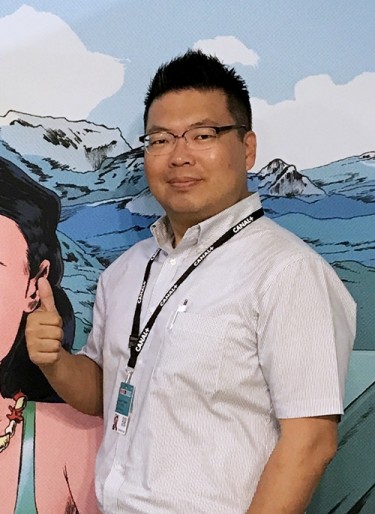 "What Electural pursue is bringing 'Joy to the World'". Electural was established in order to give happiness and to touch people around the world through its characters and contents." said CEO Yoon Jiwan, who developed his own characters and contents in 2014, based on know-how and contents production abilities that he had accumulated over 10 years, explaining the motive on why he started character contents business.

CEO Yoon Jiwan, who majored in 3D CG (Computer Graphics) and video design, is a professional designer who has designing skills in this field. His design skills have captivated people around the world.

Electural was selected to be part of Doctors Program, which is a program set up by Gyeonggi Content Agency in order to support startups from going overseas, and its characters such as 'ThumThum', 'WangCon', and 'SamGyeTang' have been displayed at exhibitions in China and South Korea, and have gained popularity from foreign buyers and spectators. Many Chinese buyers were interested in its characters, and Electural has already signed a contract that will export its characters to the Chinese markets. This past September, Electural collaborated with a startup in the U.S. and exported a selection of merchandising products, such as 'ThumThum' dolls, stickers, and keychains to the American markets. Also many buyers from South American countries, where character industries are not yet developed, are highly interested in its characters as well.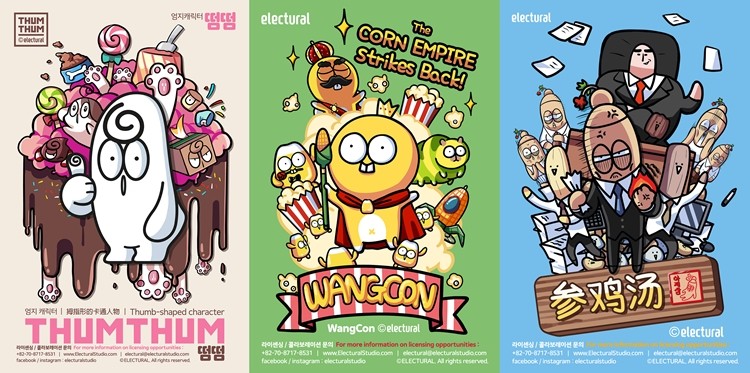 The reason why people around the world are paying attention to its characters, is because it has been faithful to the character design's basics such as 'simplicity' and 'uniqueness'. A thumb character called 'ThumThum' is one of the main characters of Electural and its motif is a 'Thumbs-up!' gesture that is used and liked by people around the world. 'Thumb', which is an icon for positivity, and children's 'curiosity' are displayed in ThumThum, which has the figure of a thumb, an adorable duck's bottom, a fingerprint on its forehead, and a unique surprised look. 'ThumThum's 'simplicity', 'uniqueness', and 'positivity' engraves ThumThum onto people's minds as a character that they cannot forget, and keep on remembering after seeing it only once.

'WangCon', king of corn, derives from the fact that corn is the most important food in the world, and is the food used most regularly as its motif. WangCon is a character with an interesting story that says corn was not originally earth plants, but were actually aliens that came from space a very long time ago, and have become food after being betrayed by humans. (Image of WangCon)

Webtoon 'SamGyeTang' is a character that targets office workers. It is a story that shows the hard life in an office in a funny way, and its main character is a ginseng character called 'AjeSam'. 'SamGyeTang' has an ambiguous meaning which compares the office and also indicates both food and the bathhouse. Office workers that are in 'SamGyeTang' such as 'YoungGye', who is the boss and 'AjeSam', are all ingredients of Samgyetang. 'AjeSam' is a middle-aged male character, and although it is a ginseng, it always has dark circles under its eyes due to the hard office life.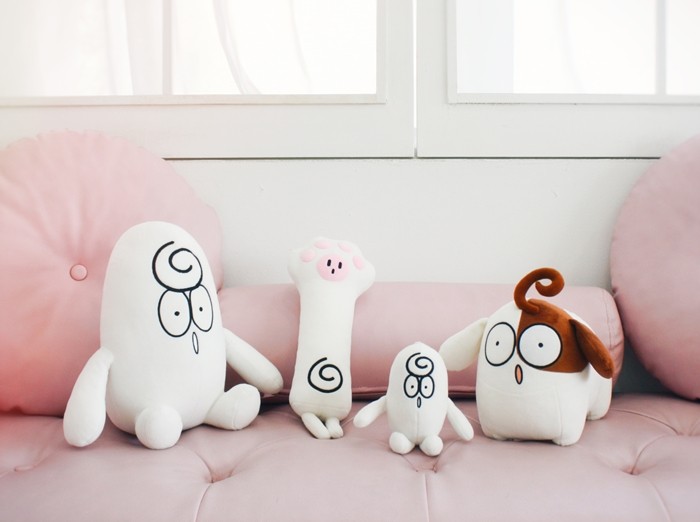 "The main goal of Electural is to make new and enjoyable characters that give joy and touch people around the world. The contents business is a business that moves feelings. If people around the world feel happiness through Electural's characters, I believe that is actually the basis of a business. We are continuing to make efforts so that Electural's characters become familiarized in South Korea and other countries, and are placed as positive characters. We are going to continue to work hard so that people around the world feel happy and will be touched through Electural's characters, and will be displayed through an assortment of contents such as webtoons and animations in the future." said CEO Yoon Jiwan of Electural's future plans.

Electural, which has makings of positive characters and contents as its goal, acts in a very quiet way. However attention and interest from South Korea and overseas that its characters receive are very positive. Electural, which has its design skills grounded on the basics will be recognized by global markets soon.

Posted by Hyangseon Lee in ETNEWS | hyangseon.lee@etnews.com