Nexon is going to start 2018 mobile game markets with its new MMORPG (Massively Multiplayer Online Role Playing Game) called 'Durango' and is going to pioneer new genre by introducing a new type of a game that was not available previously.
Nexon started an advanced reservation for 'Durango: Wild Lands' on the 19th. It is going to introduced detailed information of this game and its plans for its release on the 9th of January through an advanced preview event and it will make this game available to public sometime during January.
Durango is a project that was under a total command by Director Lee Eun-seok, who also developed Mabinogi: Heroes and it was developed by Nexon's internal development group called 'What! Studio'. Nexon has revised this project for many years and it focused on improving level of completion of this game by postponing its release for some time after its advanced reservation took place in.
Duragon is a MMORPG where players who moved to an unknown prehistoric world with dinosaurs from the modern earth due to an unknown accident settle rough environment and make virtual societies in order to survive. It is different from other MMORPGs as it is based on unique materials such as dinosaurs and open-type world.
Although Nexon is going to release Durango in South Korea first, its major targets also include North America and Europe. In order to expand Durango globally, Nexon exhibited Duragon at a game show called E3 that was held in Los Angeles on the 6th of December. Nexon believes that unique materials such as dinosaurs will be accepted widely in global markets. On top of this belief, a play method where large number of people gather together on an open world with a goal of survival is still popular.
As of now, 60% of Nexon's sales come from overseas. Nexon had made attempts such as releasing non-free mobile game in 2016 and 2017 that were almost like experiments. Its mobile game business was led by 'more than average' games such as 'HIT', 'AxE', 'Dark Avenger 3', and 'Overhit' that have made tens of millions of dollars in sales every quarter.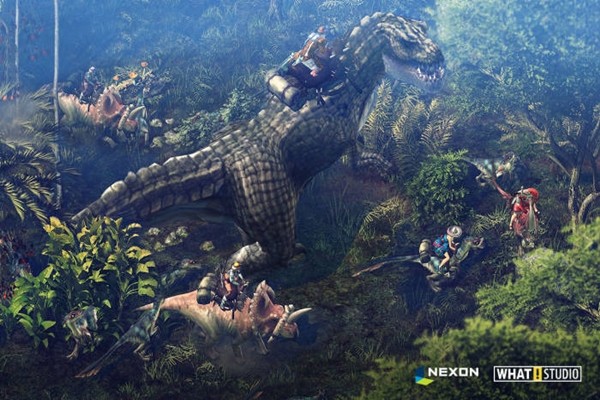 Excluding AxE that was made by Nexon's dual subsidiary called Nexon-GT, rest of games are outside developers' contents that were published.
At the same time, Netmarble Games and NCsoft released mobile MMORPGs such as 'Lineage II Revolution' and 'Lineage M' that are categorized as 'traditional' games and based on Middle Ages fantasy and have made hundreds of millions of dollars in sales every quarter.
Netmarble Games and NCsoft developed most of their mobile games internally and increased their profitability. NCsoft has made $930 million (1 trillion KRW) in annual sales for the first time this year; Netmarble Games and Nexon are competing to become the South Korean game developer that makes most sales in 2017.
New genre is considered as a double-edged sword for game developers. Although one can relatively secure stable amount of users when it sticks to 'grammars' of current games. However it needs to compete against other developers who have already settled in corresponding markets.
On the other hand, although one can have difficulties pioneering new markets if it decides to introduce a game of new genre, there is a high chance that it will be able to succeed once it withstands initial stages. Because there are no other competitors that are in its way, it is also possible to have explosive growth in global markets.
'Battlegrounds', which was developed by Bluehole's subsidiary called PUBG this year, sold more than 20 million copies globally and rewrote history of popular South Korean global games.
Staff Reporter Kim, Siso | siso@etnews.com