Mass spectrometric imaging technology that can analyze living cellular tissues in high resolution has been developed.
Daegu Gyeongbuk Institute of Science and Technology (DGIST, Chancellor Son Sang-hyuk) announced on the 8th that a research team led by Professor Moon Dae-won of New Biology Department and a research fellow Kim Jae-young developed high resolution mass spectrometric imaging system that can analyze bio-samples under high resolution.
Mass spectrometric imaging technology is a technology that measures mass of biomolecules that are detached from tissues or cells. It can measure how much of specific molecule exists in a specific area as it provides information of spatial distribution of biomolecules.
Until now, ion beam desorption method or laser desorption method that separates samples in vacuum state in order to obtain mass spectrometric image with high resolution. However these methods require preconditioning process that either freezes and cuts samples or processes samples chemically. During this preconditioning process, many side effects such as damaged samples or reduced information can occur.
Research team carried out mass spectrometry of bio-samples at the same time by using femto-second laser for removing biomolecules from bio-samples and using plasma jet for ionizing biomolecules.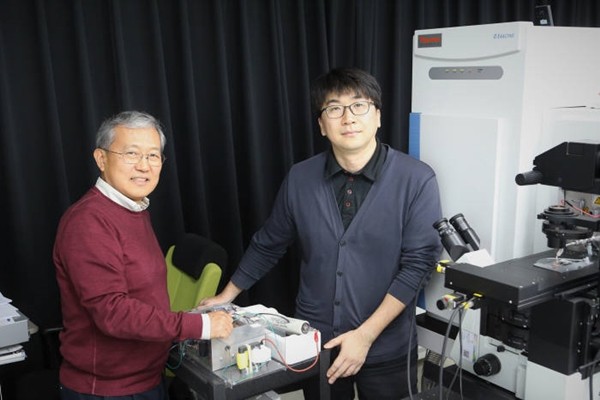 Also it evenly spread gold nanoparticles on bio-samples by utilizing endocytosis of bio-tissues so that desorption of biomolecules takes place efficiently even with low laser output.
In order to solve engineering problems that can occur while carrying out atmospheric ionization mass spectrometry on bio-samples, it added ion transmitter, laser focusing lenses, 2D scanning stage, and signal synchronizing circuits between devices and completed the system.
By using this system, research team extracted 250 biomolecules from a tissue slice of a rat's hippocampus, which is a brain tissue. It also obtained mass spectrometric imaging with resolution of under 3 micrometers from about 10 biomolecules.
If mass spectrometric imaging system is used for tissue-based new medicine screening technology, not only it can improve credibility of development of new medicines but it can also reduce sacrifice of laboratory animals.
Research team is going to carry out follow-up research that can increase amount of molecules that can be extracted from a sample and is planning to utilize its research for medical diagnosis such as development of mass spectrometric endoscope.
"Because this system can obtain information on many biomolecules that are not damaged within bio-samples that are doing metabolic activities and visualize these information under high resolution at the same time, it will be able to provide much contribution to molecular biology research." said Professor Moon Dae-won.
Staff Reporter Jung, Jaehoon | jhoon@etnews.com