Semi Sysco is planning to strengthen its small electric vehicle business. It is going to establish 4S (business, maintenance, replacement of parts, and customer management) network in South Korea and release a popular electric vehicle with sales volume of about 40,000 in Chinese markets in South Korea. It is also going to push for internalizing battery system and self-production. While sustaining this momentum, it is also going to release its own reverse three-wheel and four-wheel small electric vehicles in 2018. Although this part of business is limited to South Korean markets as of now, it is expected that Semi Sysco will have fierce competitions with other global automotive manufacturers.
Semi Sysco announced on the 18th that it held an event for releasing Zhi Dou's small electric vehicle called 'D2' in South Korea and that it is going to push for internalizing D2's battery system. Depending on trend of its sales, Semi Sysco is also going to push for assembly production of D2 in South Korea. People will be able to purchase D2 right away for about $18,400 (20 million KRW). D2 is seen as a market-verified model as 32,591 D2s were sold in China between January and October of this year and it is placed on second place based on market shares.
Semi Sysco signed off on an agreement with Zhi Dou in early 2016 regarding domestic sales of D2 and it obtained safety certification, self-certification, and registration of D2's specifications from Ministry of Land, Infrastructure, and Transport and certifications on exhaust gas and noise from Ministry of Environment and it also recently obtained qualification for national subsidy. Based on this year's standard, D2 buyer can receive subsidy worth $5,318 (5.78 million KRW) from South Korean Government and additional subsidy between $1,840 and $4,600 (2 million KRW and 5 million KRW) from local government groups.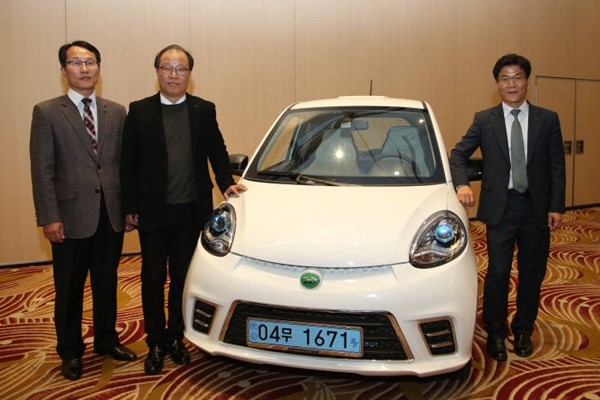 By obtaining qualifications for national subsidy, Semi Sysco is going to work on internalizing D2's major devices such as battery pack and system. Also it is also going to push for assembly production of D2 in South Korea through discussions with Zhi Dou. Its plan is not only to improve completeness of D2 and D2's driving performance through fast action taken towards markets and internalization but also to improve competitive price of D2.
"Not only is D2 the number two electric vehicle in China's electric vehicle markets but it is also an electric vehicle that is verified globally as it is also placed in the upper rank of European electric vehicle markets." said President Lee Soon-jong of Semi Sysco. "Depending on sales, not only are we going to internalize D2's battery system and others but we also going to push for domestic production of D2 through discussions with Zhi Dou."
D2 is an electric vehicle that received 'Euro L7e (Heavy Qua dricycle)' certification, which is a European safety standard for small electric vehicles. D2 is designed to fit European markets and it is being sold in China and Europe since 2015. It is installed with air conditioning and heating system and closed door (3-door) system. It is equipped with 17kWh battery and it can drive up to 150km with single charge. Semi Sysco partnered up with Shinsegye and E-Mart and is currently selling D2 at M-Louge stores located in Starfield Goyang and Hanam.
Zhi Dou's D2 was placed second place based on sales volume (37,152) until October followed by Beijing Motors' 'EC series' that took the first place based on accumulated sales volume of Chinese electric vehicle markets. BYD's 'SongPHEV' took the third place with accumulated sales volume of 19,846.
Staff Reporter Park, Taejoon | gaius@etnews.com