Samsung Electronics is planning to introduce 'QuickDrive' washer that can wash laundries in just 39 minutes and reduces current washing time by almost half to global markets. It is going to launch QuickDrive washer in global markets such as the U.S. and Asian countries by expanding its lineup of super-large products. Samsung Electronics is going to target premium markets by having QuickDrive and FlexWash washers as its top two washing machines.
According to industries on the 17th, Samsung Electronics is going to introduce 'QuickDrive' washer to North American market where 'CES 2018' is going to be held in January of 2018.
QuickDrive washer is a product that was first introduced by Samsung Electronics at IFA 2017 and its characteristic is the fact that it uses two rotation axes. On top of current drum rotation method that gives heads to the top and the bottom, it is also equipped with rear driving plate that rotates automatically. It combines strengths of a drum washing machine and an automatic washing machine. As a result, it provides excellent performance while reducing washing time.
When 'Super Speed Course', which is the fastest washing course, is used, it can finish washing laundries in just 39 minutes which is the fastest time out of entire washing machines that are currently on markets. Even though it reduces washing time, it also minimizes any damage that can be done to clothes and maintains equal level as any other washing machines.
QuickDrive is also applied with 'Q-rator', which is a Smart Function based on artificial intelligence (AI). It recommends a course when a user selects finish time for washing and it also suggests an optimum course when a user inputs amount of laundries and level of contamination.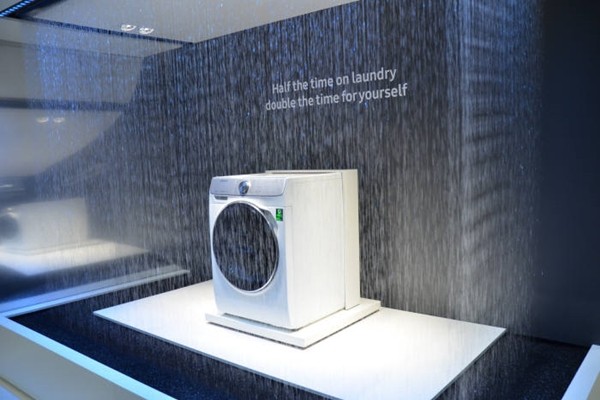 Samsung Electronics is planning to have FlexWash and QuickDrive washing machines as its top two premium washing machines starting from 2018. It is going to have QuickDrive washing machine as its main washing machine for European markets where they prefer drum washing machines and have both FlexWash and QuickDrive washing machines as its main washing machines for North American markets where amount of drum washing machines is relatively low.
Samsung Electronics already released QuickDrive washing machine in England and Germany last month and is planning to introduce QuickDrive washing machine to global markets in 2018. Its QuickDrive washing machine introduced in England and Germany is a mid-sized product that comes in 8kg, 9kg, and 10kg. For a lineup of QuickDrive washing machines that will be released in global markets, Samsung Electronics is going to include large-sized products and super-large-sized products that are bigger than the ones released in European countries.
Samsung Electronics has put in much work into its marketing as it screened its movie 'washing machine' that commemorates release of QuickDrive in Europe. It is a 66-minutes movie that was produced by Samsung Electronics' sales corporate in England and it premiered in London, England earlier this month. It is a movie that shows that washing time is long and boring and it shows advantages of QuickDrive.
Although it is going to introduce QuickDrive to global markets at CES 2018, it is expected that it is going to take some time before it actually releases QuickDrive in global markets because it is going to take some time for Samsung Electronics to develop and to form a lineup of large and super-large products.
"We are going to exhibit QuickDrive at CES 2018 and we are planning to introduce QuickDrive to global markets." said a representative for Samsung Electronics. "Because we are currently developing products that target South Korea and the U.S. where they prefer super-large products, it is going to take some time before we actually release QuickDrive in global markets."
Staff Reporter Kwon, Keonho | wingh1@etnews.com