Global e-commerce platform provider cafe24(CEO Jae-Suk Lee, www.cafe24corp.com/en) announced the release of its Shopping Curation service on December 14. The service provides a search system optimized for online specialty stores, allowing consumers to find the product they want more easily and faster.
This service released by cafe24 is the first of its kind and uses filters like style, color, material, price, etc. for refined product searches and increase consumers' shopping convenience.
Previously, consumers searched for products by typing in keywords like 'red dress' in the online store search bar and had to scroll through each product page for product details. Shopping Curation allows consumers to click through filter options like 'red', 'dress', 'size Medium', '30,000~40,000 KRW' to refine the search process.
The Shopping Curation service enables ▲ fast searching on online specialty stores that carry a vast range of products using its search system(Elastic Search), which is optimized for largescale data searches and ▲ automatic completion of refined search filters by category using Artificial Intelligence(AI) technology.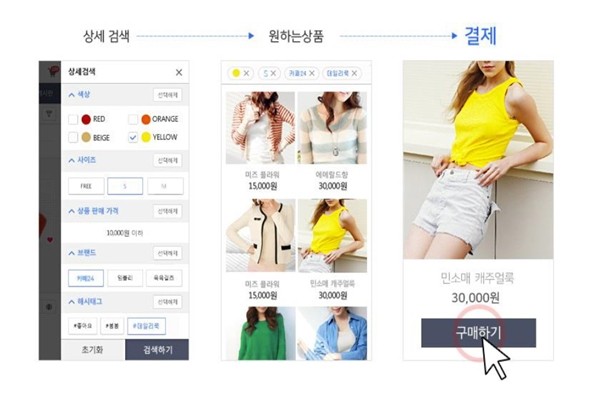 A women's fashion store with over 170,000 products has been able to reduce search times four-fold from 3 seconds to 0.8 seconds using the Shopping Curation system.
Additional services like ▲ hashtag-based automatic product display and ▲ smart hashtag settings have increased both consumer and store owner convenience. Consumers can easily find products by simply clicking on hashtags like 'New Winter Clothes' and 'Holiday Styling'. Store owners can easily make product suggestions that reflect the latest trends without additional tasks.
CEO Jae-Suk Lee of cafe24 said, "Providing online shoppers with convenient search systems that enable easy and fast searches directly affect purchases." He added, "cafe24 will continue to develop search and product suggestion systems to provide online specialty stores with competitive shopping services for their customers."
Staff Reporter Yoon, Heeseok | pioneer@etnews.com