Smilegate is looking to focus more on niche markets by diversifying genres of its games. It is drawing expectations as to whether or not it will be able to provide fresh atmosphere to current markets that are concentrated on RPGs (Role Playing Game) and MMORPGs (Massively Multiplayer Online RPG).
Smilegate is hurrying to enter foreign markets after signing on a contract with a game developer called Gameplete regarding publishing of CardCraft. Gameplete is a startup company that joined an incubation center operated by Smilegate called OrangeFarm and it developed a collecting card game (CCG) called CardCraft. CardCraft is based on collection of more than 354 different kinds of character cards in order to eliminate monsters and its characteristic is that it has doubled amount of fun by combining CardCraft with RPG puzzle elements. Recently it was selected as a game recommended by Google Editor.
However CCG genre is an area where there are not too many well-known games because it is difficult to secure popularity due to complicated regulations. Nevertheless, SmileGate is still working to enter foreign markets with CardCraft. "Although CardCraft is a game that is very easy to learn, it has depth that is comparable to other CCGs." said a representative for SmileGate. "We are confident that CardCraft will become a popular game as degree completion of CardCraft is outstanding compared to its level of awareness.
Industries predict that this will be an attempt that is rare in game markets that are dominated by RPGs.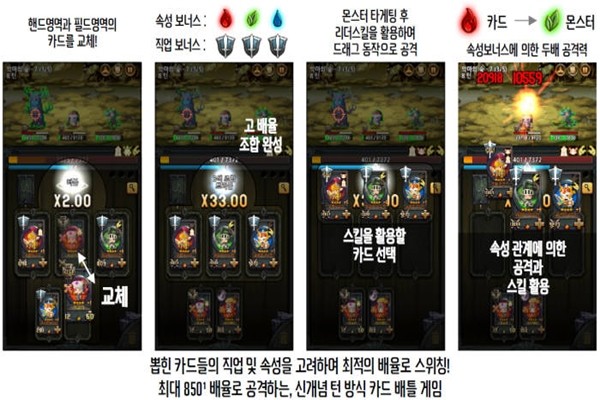 SmileGate has been working to diversify genres of its games in this year. It also worked on music performance application as it was responsible for publishing of The Musician developed by Rhymus. The Musician, which was released this past August, is a mobile application that allows one to play popular music from South Korea and other countries with ten different virtual instruments such as piano, guitar, and drum. It is already drawing popularity as there are already more than 3 million downloads in South Korea alone and was chosen as a popular game that shined Google Play this year.
SmileGate also watched turn based RPG genre carefully. It was responsible for publishing of Chaos Masters that was developed by Neoact and released in August. Its 'free-for-all battles' where users fight against each other with only their skills under same conditions are causing huge sensation. Turn based RPG is a game where a user and a computer fight against each other by exchanging an attack after another.
SmileGate also worked on sandbox genre that allows one to freely mix and combine characters and come up with his or her own character. Currently SmileGate is publishing Super Tank Rumble that is introduced by Lumidia Games. Just like Gameplete, Lumidia Games is also a game developer that had gone through Orange Farm and it released Super Tank Rumble this past February. Super Tank Rumble is a game that allows one to assemble his or her own tank and fight against opponents and it has already drawn 10 million downloads globally.
"Unlike how mobile game markets are concentrated on RPGs, we are focused on various genres." said a representative for SmileGate. "We are going to actively support startup companies enter foreign markets just like Gameplete and Lumidia Games."
Staff Reporter Choi, Jonghee | choijh@etnews.com