LG Electronics has become the first South Korean business to develop LTE network-based V2X (Vehicle to Everything) device and self-driving safety techniques that utilize this device. It is expected that such developments will push forward commercialization of LTE V2X and lead 5G network-based V2X fields in the future.
LG Electronics announced on the 10th that it successfully verified performance of its V2X safety techniques by demonstrating them on Korea Transportation Safety Authority's Safe Driving Training Center's test driving site and streets in Gwacheon-si.
LTE V2X connects every things with V2V (Vehicle to Vehicle), V2I (Vehicle to Infrastructure), and V2P (Vehicle to Pedestrian) and establishes safer and more convenient traffic environments.
'Safety techniques' are seen as the most important technologies out of technologies based on self-driving technology because they are directly connected to lives of drivers as they prevent collisions and notify dangerous elements on travel routes.
Self-driving safety techniques are generally divided into ADAS (Advanced Driver Advanced Systems) sensor method and V2X method. A method that directly detects any surrounding dangers through ADAS sensors such as cameras, radars, and LIDAR (Light Detection and Ranging) is only able to detect dangers that are in short distance and is unable to detect any situations behind obstacles.
LG Electronics' LTE network-based V2X safety techniques overcome limitations of ADAS sensors by exchanging and responding to location, direction, speed, and traffic information of surrounding cars in real-time.
LG Electronics introduced technologies that warn about 'sudden break by a car in the front' and 'construction areas in the front' at this demonstration. Its technology that warns about sudden break sends warning messages through V2V technology before the car behind approaches minimum braking distance when it detects any sudden break by a car in the front or on the left side or the right side and prevents any possible collision.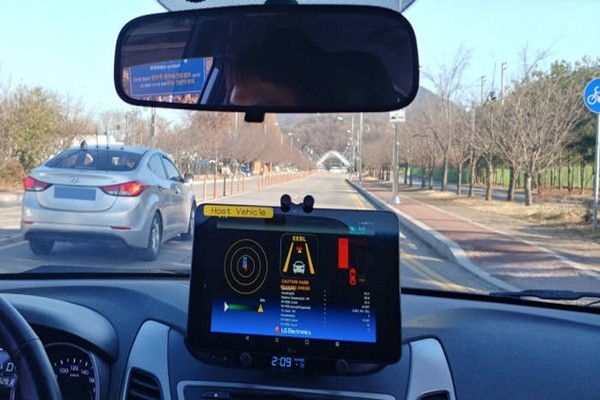 When two cars that are applied with this technology are driving on a road and the car in the front makes sudden stop, corresponding information along with first stage warning are sent to the car in the back in real-time. If the car in the back does not break and approaches minimum braking distance in spite of first stage warning sign, warning sign goes off for the second time.
Technology that warns about construction areas in the front sends information on construction areas to nearby cars through road IT infrastructures and allows cars to avoid any possible dangers that are ahead in advance. When cars enter certain distance from construction areas, they receive safety warning messages.
LTE V2X device developed by Samsung Electronics has excellent versatility as it supports international LTE V2X standards regulated by 3GPP (3rd Generation Partnership Project) in March. LG Electronics is planning to accelerate its process of developing technologies for commercialization of LTE V2X. It is also planning to lead 5G network-based V2X fields that are seen as must technologies for development of next-generation connected cars and are four to five times faster than LTE and reduce telecommunication delay time by one-tenth.
LG Electronics has been the host selected by 3GPP since 2015 for development of V2X technology standards based on mobile network. It has recorded top market shares for five years in a row since 2013 in Telematics and has led related industries. In October, it established a research institute with Qualcomm, which is a leading business in mobile network semiconductors, for development of 5G network-based V2X and solutions for next-generation connected cars.
"Successful development of V2X safety techniques once again prove LG Electronics' technical skills that have been leading industries." said Director (Executive Director) Yoon Yong-cheol of LG Electronics' auto-parts technology center. "We are going to continue to introduce leading solutions for next-generation connected cars so that we can be a major partner in self-driving technologies for major automotive manufacturers."
Staff Reporter Kwon, Keonho | wingh1@etnews.com