'PlayerUnknown's Battlegrounds' greatly increased shares of playtime and PC cafes in just two weeks removed from the start of its service in South Korea. According to Gametrics on the 29th, Battlegrounds recorded 1.61 million hours (based on PC cafes) of playtime between the 20th and the 26th. Compared to previous week, its playtime increased by about 100,000 hours.
Compared to how its playtime was 1.41 million hours between the 23rd and the 29th of last month, which is before Kakao Games started servicing Battlegrounds, its current playtime is 14.3% higher. Compared to the time between the 13th and the 19th of this month, which is when Kakao Games started servicing Battlegrounds, its current playtime is 16.6% higher.
Battlegrounds surpassed 30% in PC café share (based on playtime) by the end of the 29th. It is increased by 4% compared to how its share was 26% before Kakao Games started servicing Battlegrounds.
Gametrics analyzes data related to use of games by selecting 4,000 PC cafes out of 10,000 PC cafes in South Korea based on South Korea's game white paper's regional ratio.
"It was tough to release Battlegrounds separated from Steam since Battlegrounds users are used to playing the game on Steam." said a representative for Kakao Games. "However our version of Battlegrounds is making positive performance in spite of difficult situations."
Kakao Games, which started Battlegrounds service on the 14th of November, announced that it will not receive a fee of $0.18 (200 KRW) per hour from owners of PC cafes for about two months. It is expected that its share will continue to rise during this period.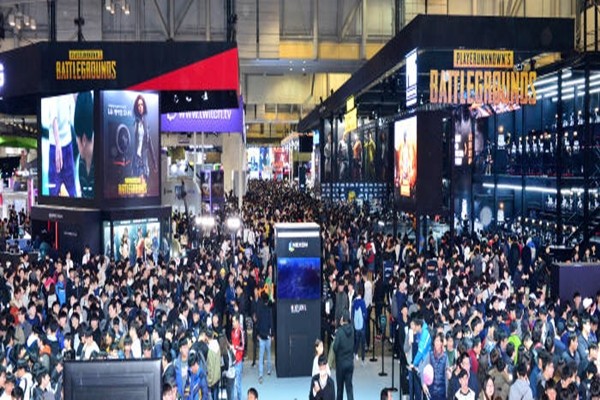 Although some of owners are opposing Kakao Games' Battlegrounds service due to a reasoning of 'double charge', it will be difficult for them to boycott the game itself. Their stance is that Kakao Games is adding fees onto PC café owners on top of a game purchased by individual user from Steam. Kakao Games is operating its own Battlegrounds server separated from Steam.
"We are gathering opinions of PC café owners through each branch." said a representative for Korea Internet PC Culture Association. "From perspectives of a PC café owners, it is a financial burden for them to upgrade their PCs to be capable of playing Battlegrounds, which requires high specifications, on top of additional hourly fees."
eSports broadcasting companies are preparing eSports contents for Battlegrounds. When eSports leagues are established, Battlegrounds will gain much more life to it.
Africa TV is going to hold eSports competition for Battlegrounds next month. This competition will be a pilot season of 'Africa TV PlayerUnknown's Battlegrounds League (APL)'. Africa TV will accept applications from the 1st until the 9th of December and it will offer $92,000 (100 million KRW) in prize pool. Africa TV is going to discuss with PUBG and look to hold APLs annually.
OGN is also going to gather participants of 'PUBG Survival Series Beta (PSS Beta)' until the 7th of December and is going to offer $184,000 (200 million KRW) in prize pool. This series will be carried out in solo mode and squad (four people) mode and its finals will be held in February of 2018.
Staff Reporter Kim, Siso | siso@etnews.com