'Veloster', which is the major work for 'PYL (Premium Younique Lifestyle)' brand that was ambitiously pushed by Vice-Chairman Chung Eui-sun of Hyundai Motor Company, will go through a full change and will be available on markets in 2018 as second generation Veloster.
PYL is a sub brand that was prepared in order to target young consumers who are in their 20s and 30s. Although Veloster was seen as the most 'unique' model out of all Hyundai Motor Company's cars due to its distinct design, its sales volume did not meet Hyundai's expectations.
Hyundai Motor Company focused all of its abilities and capabilities into second generation Veloster. It established a task force under the project name JS and put in all of its technical skills. By doing so, it was able to complete second generation Veloster within three years.
New Veloster media preview event was held at Gwangwon Inje Speedium on the 28th for reporters who are responsible for making reports on cars. It was an unprecedented event as this event introduced design of second generation Veloster and even performed trial rides even before new Veloster is officially released.
"First generation Veloster had received great interests from the public due to its unique design." said TFT Director Kim Young-heon who oversaw development of second generation Veloster. "Second generation Veloster enhances sense of immersion in driving as it adds sporty performance while maintaining its unique design."
Hyundai Motor Company maintained asymmetric doors, which are symbols of Veloster, for second generation Veloster as well. Second generation Veloster also has an asymmetric door on driver side and '1+2' asymmetric doors on the front and the back of passenger side. Hyundai Motor Company adjusted ratio of its car frame in order tom emphasize swift feel of Veloster. It also made its hood longer and pushed back space for passengers to the back in order to give off an image of dynamic coupe.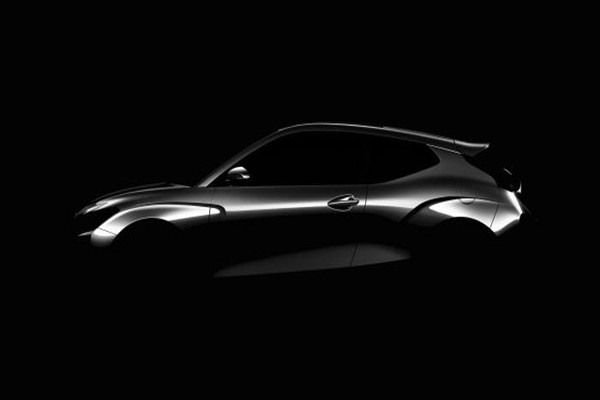 Hyundai Motor Company fixed some of Veloster's inside parts that were seen as weaknesses of first generation Veloster. It adjusted height of seats and increased head space for passengers after hearing that it is difficult to seat in the back of first generation Veloster due to low roof height. It applied various high-tech specifications such as non-embeddable navigation and combiner HUD (Head Up Display).
"Veloster is an icon for Hyundai Motor Company's challenges and innovations." said Team Leader Koo Min-cheol who was in charge of second generation Veloster's design. "While maintaining identities of first generation Veloster, we focused on improving degree of completion of design through more sporty look.
Hyundai Motor Company's development teams are confident that they have improved 'joy in driving' by a step higher. Rather than increasing values of Veloster's specifications, they maximized drive performance that a driver can feel by focusing on enhancing balance of Veloster's frame.
Its powertrain is composed of two engines such as kappa 1.4-liter gasoline turbo and gamma 1.6-liter gasoline turbo. Hyundai Motor Company combined engine with 7-speed DCT (Double Clutch Transmission) and added 6-speed manual transmission to 1.6-liter gasoline turbo model for Veloster manias.
"In case of 1.6-liter gasoline turbo model, we improved its engine so that it can produce its maximum torque around 1,500rpm and increased acceleration within low-speed regions." said Senior Researcher Hwang Tae-won who was in charge of second generation Veloster's powertrain. "Owners of second generation Velosters will truly feel the joy of driving these cars as we also added a function that allows these cars to display power that surpass their maximum torque between 2,000 and 4,000rpm through over-boost control function."
Hyundai Motor Company still needs to set up marketing strategies and figure out which consumers they are going to target. Hyundai Motor Company decided on 'millennial generations' that express themselves and pursue joys of life as its targets for second generation Veloster. It explained that there are not any models that can directly compete with Veloster as it is a car that cannot be compared.
On the other hand, new Veloster will be introduced officially at Detroit Motor Show that will be held in January of 2018. Afterwards, it is going to start selling new Velosters starting with South Korean markets followed by global markets.
Staff Reporter Jung, Chiyeon | chiyeon@etnews.com