Samsung Electronics decked out 'IoT (Internet of Things) hotel room' by joining hands with Marriott Hotel. This hotel room connects many devices to IoT and provides personalized services to customers. They are planning to research on what kind of benefits Smart Hotel will give to customers and hotel employees and apply such benefits to actual hotel rooms.
Samsung Electronics announced that it set up 'IoT hotel rooms' in Bethesda, Maryland where Marriott Hotel Headquarters is located.
IoT hotel room is a hotel room that connects various devices and sensors such as TV, lighting, air conditioner and heater, and Smart Mirror to IoT in order to provide personalized services to people that are staying.
Importance of IoT has been emphasized by hotel industries, and necessary technologies have been evolving rapidly. Samsung Electronics' IoT hotel room draws attention due to the fact that it is going to be used in actual settings. When a customer decides on room temperature or brightness on his or her profile while making a reservation, corresponding hotel can set up a room how the customer wants before the customer arrives. If this customer is a repeating customer, hotel can provide services that the customer wants without having to indicate separately.
It is possible to control devices and lighting and to set up morning alarm by voice. It is also possible to receive yoga lessons from a Smart Mirror and adjust water temperature or fill a bath with water according to shower time.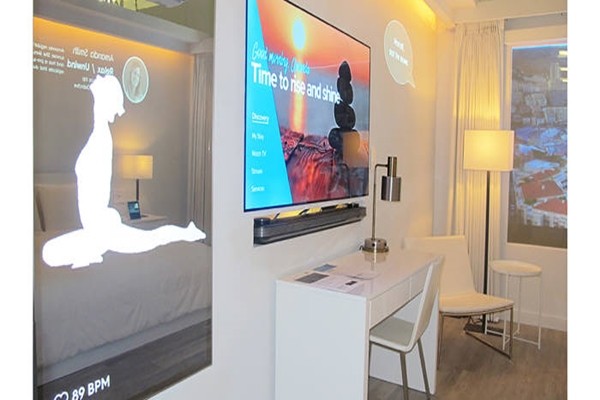 It is also expected that hotels will be able to manage their hotels even more efficiently as they will be able to understand requests from each customer in more details and provide personalized services. Hotel employees can also provide services according to desirable time by customers and performance their tasks more efficiently.
Samsung Electronics joined hands with Marriott Hotel and Legrand in order to implement its IoT hotel room. Samsung Electronics provides end-to-end IoT services through its ARTIK IoT platform and Smart Things Cloud. Legrand is a French company that has global technical skills in constructing digital building infrastructures and has been building solutions that manage digital buildings and IoT hotel rooms along with Samsung Electronics since end of 2015. It also provided various technologies for lighting and power in order to implement IoT hotel room.
Marriott Hotel will select areas that will be applied with state-of-the-art ICT technologies such as IoT and voice recognition and research into benefits that can be provided to customers.
These three businesses are planning to carry out researches while actually applying IoT hotel rooms in real life and develop more advanced services after analyzing data that they accumulate.
"IoT hotel rooms can be decked out into a desirable environment through IoT and voice recognition technology whether a customer wants rest or improvement in productivity of his or her work." said a representative for Marriott Hotel.
"We are able to provide best personalized services to customers by adding ARTIK platform and Smart Things Cloud technologies and working with Legrand and Marriott Hotel." said a representative for Samsung Electronics. "We are going to provide intelligent personalized experiences that make customers' lives more convenient and safer."
Staff Reporter Kwon, Keonho | wingh1@etnews.com