Many 'AAA'-level South Korean games made their debuts on 'G-STAR 2017' and they are released to target global markets as they are made with large amount of capitals. Most of game developers notified people that release dates of their games are approaching by putting out trial versions and lightened forecast of South Korean game industries in 2018 once again. It is expected that both online and mobile game industries will become active once again.
Nexon introduced trial versions of 'FIFA Online 4', 'Titan Fall', and 'Need for Speed Edge' at G-STAR 2017, which had its opening day on the 15th at BEXCO in Busan. All three of these games are PC online games that are based on IPs (Intellectual Property) that are well known in global markets.
Netmarble Games introduced trial versions of its mobile games such as 'Seven Knights 2', 'Tera M', 'Blade & Soul Revolution', and 'Icarus M' for the first time.
These four games are mobile MMORPG (Massively Multiplayer Online Role Playing Game) that are based on large-scale IPs that are popular amongst online and mobile platforms. Netmarble is going to continue popularity of 'Lineage 2 Revolution' that changed this year's trend of mobile game markets to 'large-scale IPs'.
Bluehole along with its subsidiary called PUBG are going to exhibit 'PlayerUnknown's Battlegrounds'. It introduced a trial version of PC MMORPG called 'AIR', which is the first PC MMORPG to be introduced after Tera, for the first time and showed contents with high level of completion.
According to G-STAR 2017's organizers, G-STAR 2017 has 676 companies from 35 different countries participating and set up 2,857 booths that is 5% more than number of booths from last year at 2,719. This is the most amount of booths set up out of all previous G-STARs. During an early application period that took place four months prior to the opening day of G-STAR 2017, BTC Hall finished with 1,657 booths that is 8.3% more than number of booths from last year at 1,530.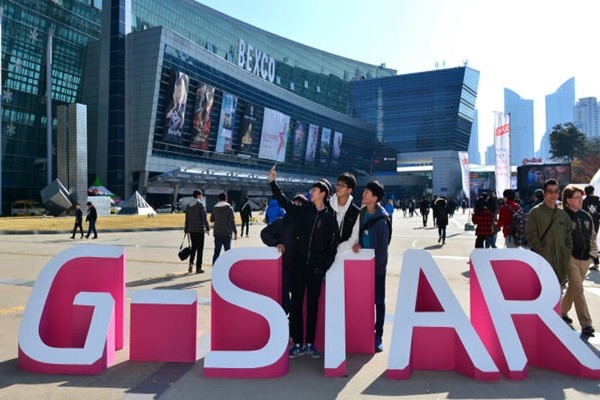 G-STAR Group Committee is going to hold 'G-STAR 2017 G-LAND FESTIVAL' this year at Busan Cinema Center and is going to provide various programs such as game music concerts, game movie screenings, cosplay Gala Shows, one-person creator events, retro-game tournaments, board games experience, life photo studios, hover board cart racing,, and Busan game events.
International game conference called 'G-Con 2017' will be held during G-STAR 2017 period and it will be held in rooms 201 and 202 of BEXCO Convention Hall on the 16th and the 17th.
Game investment market that provides opportunities to small and medium game developers with publishing and investment attraction will be held in rooms 121 and 122 of BEXCO Second Exhibition Center on the 16th and the 17th. This event will have 37 developers, 9 investors, and 15 publishers participating and will go over IR pitching, IR consulting, investment conference, and networking.
Game business employment exposition will be held in Grand Ball Room, which is located on the third floor of BEXCO Convention Center, from 10 A.M. to 6 P.M. on the 17th. 20 businesses such as Netmarble Games, Smile Gate Holdings, Neople, Identity Games, and KOG will be participating in this exposition. This exposition will provide customized support for job seekers as it will have employment hall, consulting hall, and event hall.
"We are going to continue to give all our effort in order to have G-STAR be an active business place and an enjoyable event at the same time." said Chairman Kang Shin-cheol of G-STAR Group Committee.
Staff Reporter Kim, Siso | siso@etnews.com