Opening day of South Korea's biggest game event 'G-STAR 2017' is just a day away. G-STAR, which has solidified itself as the place for announcing new work, is going to present a new trend that sheds new light on current popular games this year.
Its focus is going to be on e-Sports and it is determined to turn around attention on new work. e-Sports indicates online competitions or leagues for popular games that are verified of their marketability.
Bluehole is going to hold its own e-Sports competition at its booth at G-STAR in order to determine who is the best 'Battleground', which is an ambitious work developed by its subsidiary called PUBG, player out of Asian countries. Battleground is seen as this year's biggest blockbuster as it had 2.5 million concurrent connected players globally and sold more than 20 million copies.
ACTOZ SOFT is also planning to make winning moves with e-Sports as it has secured 300 booths. Number of its booths is same as the number of booths held by NEXON, which is the main sponsor of G-STAR. ACTOZ SOFT formed all of its booths as an e-Sports stadium and is planning to have competitions for 12 different games. One will be able to see StarCraft, Overwatch, and Tekken 7 that have many hardcore fans.
Bluehole and ACTOZ SOFT are going to boost fever for e-Sports by putting up huge prize pools as they put up $270,000 (300 million KRW) and $220,000 (245 million KRW) as prize pools respectively. Looking at games individually, prize pools for 'Counter Strike: Global Offensive' and 'Hearthstone' have the highest prize pools followed by 'Battleground'. Their prize pools are $54,000 (60 million KRW) and $48,000 (53 million KRW) respectively.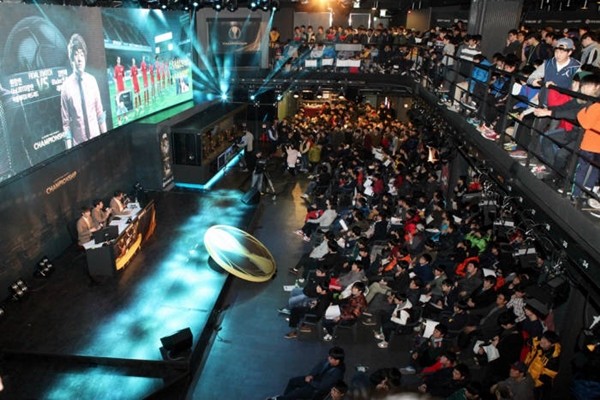 Twitch is also planning to popularize popular online games. On the 18th, Twitch streamers will compete against each other in League of Legends, Hearthstone, and Heroes of the Storm. Competitions for Battleground and Just Dance will be held on the 19th. Twitch is this year's global media sponsor for G-STAR.
"e-Sports based on current online games will bring changes to an exhibition event that is centered on announcement of new games." said a representative for G-STAR's executive office. "This year's scheme is different from last year's scheme as difference between percentages of exhibited online games and mobile games are not much far apart anymore."
G-STAR will be a showcase for Battleground to be evaluated of its possibility of becoming a successful e-Sports. Battleground is a game where maximum of 100 players are fighting against each other to be a lone survivor. They strategically use various weapons and cars on an isolated island in order to become the last man standing.
Because 100 players have bloody fights in different parts of an island, it is not easy to have main scenes on single screen. However Bluehole is planning to overcome this limitation by running a relay system that will have 8 observers participating. It is going to have every screen of a player and it is going to edit in real-time and send to a broadcasting screen if there are interesting situations.
"We are gathering feedbacks towards improving our broadcasting methods through global tester groups or various competitions." said a representative for Bluehole. "We are going to introduce higher level of broadcasting contents when our official services are available."
Staff Reporter Choi, Jonghee | choijh@etnews.com