As experimental travel packages gains popularity, more tourists that used to visit South Korea as part of group tours have started to visit South Korea with families and friends. Because Seoul is well connected with public transportations such as subways and buses, tourists that visit South Korea for the first time can easily tour South Korea without any restrictions.
AREX (Airport Railroad Express), which runs between Incheon Airport Station and Seoul Station, is the transportation method that is used the most when going from Incheon Airport to cities. It is also being served as a sightseeing railroad since it goes through beautiful scenery of islands and beaches and variety of tourist spots such as Hongdae and Myungdong.
Airport railroads have few differences from normal subways. First of all, they are composed of all stop trains that stop at every 12 stations and express trains that run from Seoul Station and Incheon Airport Station non-stop.
Insides of all stop trains are same as normal subways and their fares are similar to each other. It takes about 58 minutes ($3.73)to go from Seoul Station to Incheon Airport Station using all stop trains. On the other hand, individual seat is designated for a specific person on express trains. These trains offer water for free and also have restrooms. For these trains, it takes about 43 minutes ($7.19) to from Seoul Station to Incheon Airport Station.
Express trains have variety of discount systems such as a group discount ($5.84 per person) when there are at least three people within a group.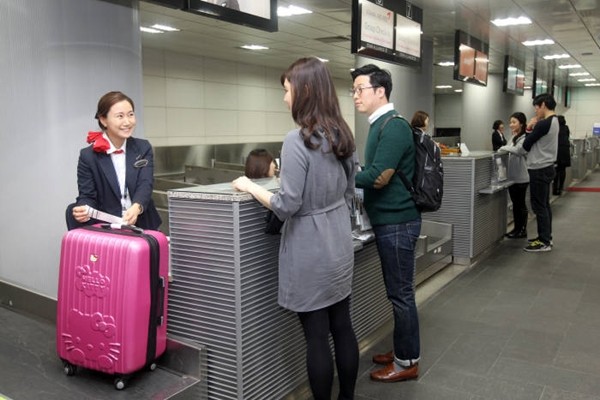 When tourists leave South Korea, they can use early check-in service located on the second basement level of the airport terminal of Seoul Station where they can finish boarding procedure and departure procedure of their corresponding airlines. These procedures can be finished in just ten minutes. They can also reduce time of visiting duty-free shops since they can use departure pathway when they arrive at Incheon Airport.
Since July of this year, travel centered located on the second baement level of the airport terminal of Seoul Station and travel stores of Incheon Airport started carrier wrapping service. This service wraps luggage with vinyl film in many layers in order to prevent any contents from going missing and to prevent luggage from getting damaged or contaminated. Regular size (under 28 inches) costs $9.88 (11,000 KRW) while large size (more than 28 inches) costs $14.83 (16,500 KRW).
Due to these conveniences, number of foreign tourists who use airport railroads increased by 15.7% compared to last year.
"During fall seasons, Station employees and travel center employees at Seoul Station and Incheon Airport Station are greeting customers while wearing Hanbok." said a representative for AREX. "We are also focusing on 'informing tourists about South Korea' by announcing departure and arrival of trains through Korean traditional music."
On the other hand, one can easily obtain information about AREX since it has its English homepage (www.arex.or.kr), Facebook page, and Google blog.
Staff Reporter Na, Sungryul | nasy23@etnews.com