GRAVITY is planning to rebuild its reputation through its new work such as 'Ragnarok M: Guardians of Eternal Love', 'Ragnarok: Zero', 'Yo Ji Kyung', and 'H.O.D'. Excluding 'Ragnarok: Zero', every other games are mobile games. It is also looking to be listed on KOSDAQ if its domestic sales increase.
GRAVITY held a media conference at Glad Hotel on the 31st and introduced its new work that will be released starting from this fourth quarter. It is planning to release Ragnarok M: Guardians of Eternal Love, which reproduces graphic sensibility that can be felt from its original online game in 3D, during first quarter of 2018.
This game was available early this year in China and it recorded upper rank in sales. It was then released in Taiwan, Hong Kong, and Macao in October and recorded number one in sales of Google Play Store.
Ragnarok: Zero is a renewal version of an online game called Ragnarok. GRAVITY is going to re-launch Ragnarok: Zero by improving level of convenience and quality of the game.
Yo Ji Kyung reinterprets a popular Chinese drama into a mobile game and it is based on Asian fantasy world and 3D cartoon rendering graphic. GRAVITY increased level of completion by hiring top dubbing artists such as Yang Jung-hwa, Song Joon-seok, Choi Han, and Park Ji-yoon and is planning to release it in this December.
H.O.D is a mobile MMORPG (Massively Multiplayer Online Role Playing Game) and its characteristic is its quality of action that reminds of 'Diablo'. It was selected from 122 Apple App Store Featured and is expected to be released in South Korea in 2018.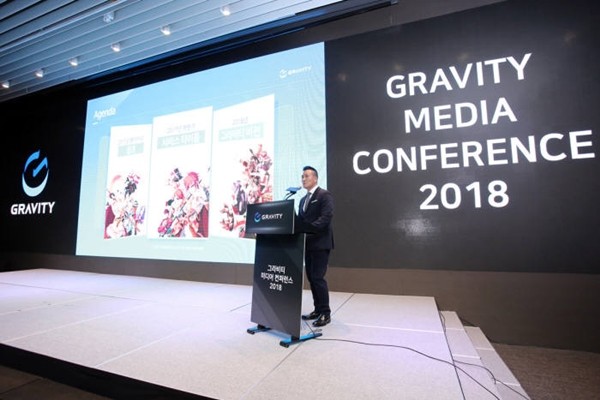 GRAVITY was established in 2000 and is a video game corporation that has grown through its online game called Ragnarok. Chairman Kim Jeong-ryul, who is the founder of GRAVITY, sold GRAVITY to a Japanese business called GungHo in 2005. In the same year, GRAVITY was listed on NASDAQ.
Ragnarok is currently available in 80 countries and has accumulated $895 million (1 trillion KRW) in sales and 59 million users.
GRAVITY was in slump for awhile after it could not release any successful follow-up work after Ragnarok. However it was able to make surplus again since third quarter of 2016 through Ragnarok-related businesses. It made total of $66.3 million (74.1 billion KRW) in sales in three quarter of this year and this is their best performance since the establishment of GRAVITY.
GRAVITY is going to focus on recovering its performance in South Korea in 2018 through Ragnarok M: Guardians of Eternal Love. "2018 will be an important year for us to make a leap again not just in South Korea but also in global stage." said CEO Park Hyeon-chul of GRAVITY. "We are also going to look into being listed on KOSDAQ when our sales increase in South Korea."
Staff Reporter Kim, Siso | siso@etnews.com