South Korea's electric vehicle users are planning to break world record of charging most electric vehicles at the same time.
They are planning to charge 124 electric vehicles at a same time and a same location and break the current record held by electric vehicle users in Netherland when they charged 50 electric vehicles at the same time in 2012.
KEVUA (Korea Electric Vehicle User Association), which is a group for electric vehicle owners, made an announcement on the 30th that it is going to break world record by charging 124 electric vehicles at the same time at Seoul Lotte World Tower on the 25th of November.
This will be the biggest event in South Korea and other countries put together as more than 1,000 kWh of electricity will be charged at the same time. Many new and older BEVs (Battery Electric Vehicle) such as Hyundai Motor Company's 'IONIQ Electric', Kia Motors' 'Soul EV', Renault Samsung's SM3 Z.E.', BMW's 'i3', GM's 'Bolt', Nissan's 'Leaf', Tesla's 'Model S', Kia's 'Niro PHEV', 'Volvo XC90', 'IONIQ PHEV', and 'Volt' that have been sold in South Korea will participate in this event.
Lotte World Tower, which is located in Jamsil, has 124 slow and fast chargers that is the most number of charged set up at a single business place in South Korea. It has 124 slow and fast chargers including 6 fast chargers just for Telsa's electric vehicles located on second, third, and fourth floor of underground parking lot. KEVUA is planning to gather 124 electric vehicles accompanied by families on a first-come-first-serve basis.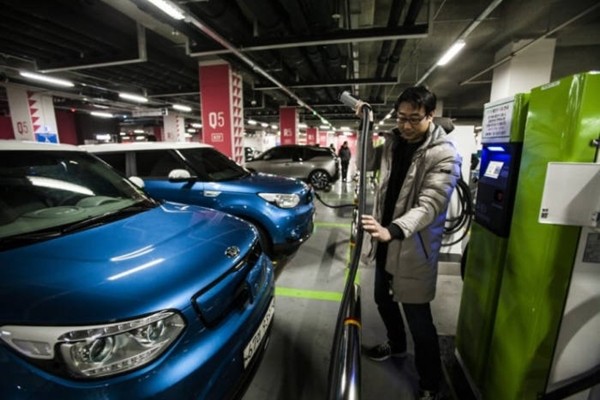 A forum for these electric vehicle users will also be held at 'SKY 31 Auditorium', which is located on the 31st floor of Lotte World Tower, after this event. This forum will be a place for people to tell other electric vehicle users and potential electric vehicle users about their experiences with electric vehicles and their knowhow on operating chargers, electric vehicles, and batteries.
Launching ceremony of 'Public Charger Supporters' that has electric vehicle users to individually manage public charging stations (fast charger) set up by Ministry of Environment in South Korea will also be held on this day. Supporters will have electric vehicle users to examine status of safety and operation of public charging stations located around them on their own and carry out volunteer work to examine charging stations whenever it is necessary with Korea Automobile Environmental Association (KAEA).
"This is the first event held by EVuff (Electric Vehicle user forum & festival), which was launched by KAEA in order to inform people about correct ways of using electric vehicles and to expand use of electric vehicles by people, after it developed into KEVUA." said Chairman Kim Sung-tae of KEVUA. "This challenge of breaking world record will contribute in changing societies' wrong ways of using charging infrastructures."
EVuff is a private group that has been sharing experiences with actual electric vehicle users and potential electric vehicle users. It held five forums in 2016 in Jeju, Seoul, Incheon, and Saejong.
Staff Reporter Park, Taejoon | gaius@etnews.com