Lotte Group, which is the fifth largest conglomerate in South Korea, officially established 'Lotte Corporation' on the 12th. A holding company with an asset of $5.30 billion (6 trillion KRW) has been established by merging investment sectors of four listed subsidiaries with Lotte Confectionary at the center. Chairman Shin Dong-bin of Lotte Group took a meaningful first step towards establishing a stable management structure and freeing itself from control of Japan Lotte by reducing shares that Japanese subsidiaries hold. Not only is Lotte planning to simplify its management structure by drastically reducing number of circular shareholding cycles from 50 to 13 and improve transparency of its management but it is also expected that efficiency in its management will be more improved by separating risks between business sectors and investment sectors.
At an inauguration ceremony of Lotte Corporation and a board of directors meeting that were held at Lotte World Tower on the 12th, Lotte Group appointed Chairman Shin and Office Head Hwang Gak-kyu of Lotte Management Innovation Office as the co-presidents and Team Leader Lee Bong-cheol of Lotte Management Innovation Office's Financial Innovation Team as the internal director. Lotte Corporation is composed of six offices such as Value Management Office, Financial Innovation Office, HR Innovation Office, and Communication Office and it has about 170 executives and employees.
"Establishment of Lotte Corporation is going to increase transparency of Lotte's management and notifies the start of Lotte's vision towards creation of value of new Lotte." said Chairman Shin through his commemorative address for the establishment of Lotte Corporation. "Lotte Corporation will be the foundation for Lotte Group to continue to develop and innovate itself in the future."
"We cannot forget the fact that new Lotte will be established based on the achievements accomplished by Founder Shin Kyuk-ho." said Chairman Shin. "Let us make Lotte that pioneers new generations through continuous innovations."
Lotte Corporation took place by doing equity spin off on Lotte Confectionary, Lotte Shopping, Lotte Chilsung Beverage, and Lotte Food into investment sectors and business sectors and having Lotte Confectionary's investment sector absorbing rest of the three investment sectors. Ratios of division-merger of these four subsidiaries are 1.14 for Lotte Shopping, 8.23 for Lotte Chilsung Beverage, and 1.78 for Lotte Food with Lotte Confectionary having 1.
Lotte Corporation's asset and capital are $5.62 billion (6.3576 trillion KRW) and $4.32 billion (4.8861 trillion KRW) respectively. Total number of subsidiaries that are incorporated under Lotte Corporation is 42 and this number becomes 138 when subsidiaries in foreign countries are included. Lotte Corporation is planning to increase number of incorporated subsidiaries through tender offers, division-mergers, and share purchases. It is likely that it will also actively push for initial public offering of non-listed subsidiaries in order to build up transparency of its management.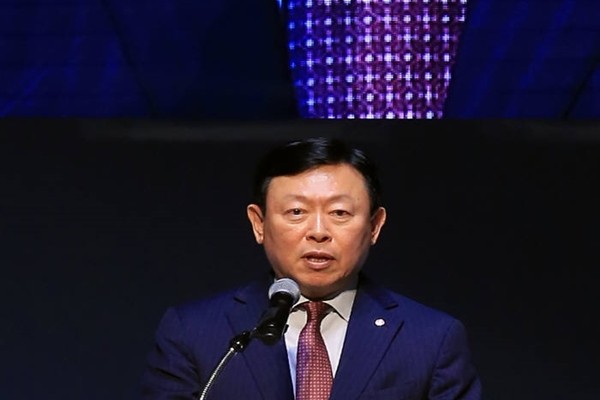 Lotte Corporation is a pure holding company that possesses and manages shares of its subsidiaries without any separate businesses and it evaluates management, supports businesses, and manages brand licenses in order to increase values of subsidiaries. From a medium-term or a long-term perspective, it will also develop new businesses and push for M&A in order to establish business capabilities of Lotte Group. It seems that major sources of profit for Lotte Corporation will be dividends and commissions on its brand. Commission on its brand is 0.15% of the amount of sales from each subsidiary excluding advertisement costs.
Lotte also introduced a new symbol mark. This new symbol signifies the meaning of Lotte Group's new vision called 'Lifetime Value Creator' as Lotte faces 50th anniversary of foundation. This vision holds Lotte's will to provide the best value for its customers throughout their lives.
It is likely that management centered on shareholders will be strengthened as well. Lotte increased propensity to dividend ratio of Lotte Shopping, Lotte Chilsung Beverage, Lotte Confectionary, and Lotte Food up to 30% in this past August and it has been strengthening its policies such as announcement of its plan to actively examine interim dividends that will be favorable for its shareholders.
It is expected that Chairman Shin's control of Lotte Group will be strengthened even more as Lotte Group establishes Lotte Corporation. Chairman Shin holds 13.0% of Lotte Corporation's shares. However he is able to hold close to half of Lotte Corporation's shares when his shares from Lotte Group's subsidiaries in South Korea (27.2%) and Lotte Foundation (5.0%) and Founder Shin Kyuk-ho's shares (3.6%) and Chairman Shin Young-ja of Lotte Foundation are added. On the other hand, Japan Lotte Holdings former Vice-Chairman Shin Dong-joo of Japan Lotte Holdings (Chairman of SDJ Corporation) who had had a conflict with Chairman Shin over a control of a company have only 4.5% and 0.3% of shares of Lotte Corporation.
However Lotte Group still needs to work on listing Hotel Lotte, which had been acting as the real holding company of Korea Lotte Group and has more than 99% of its shares possessed by Lotte's subsidiaries in Japan, and merging it with Lotte Corporation.
Staff Reporter Lee, Joohyeon | jhjh13@etnews.com