Hyundai Motor Group chose China as the starting point for its global Big Data center project. Its strategy is to increase level of awareness of its brand even more by developing personalized connected car services to customers.
With Secretary Ma Changqing of Guian New District, Deputy Director Mare of Provincial Department of Commerce, and Vice-President Hwang Seung-ho of Hyundai Motor Group's Auto Intelligence Business Department in attendance, Hyundai Motor Company held an opening ceremony for 'Hyundai Motor Group China Big Data Center' in Guian New District on the 26th.
It has been about 10 months since Secretary Chen Min'er of Chongqing, who used work as the party secretary of Guizhou, and Vice-Chairman Chung Eui-sun of Hyundai Motor Company signed off on an agreement for establishment of Big Data center in November of last year.
Guian New District is a national new district specialized for Big Data industry and is drawing attention globally as Chinese Government recently started taking actions to rapidly become an internet powerhouse. Global businesses such as Apple, Alibaba, and IBM established their data centers here and Hyundai Motor Group became the first automotive manufacturer to enter this area. This Big Data Center is a five-story building with an area of about 1,200m2 and half of it is shared by China's biggest internet business called Baidu.
This Big Data Center will collect information on cars in Cloud and provide personalized connected car services to customers through analysis done by Big Data.
Through connection of ccOS (connected car Operating System) that is responsible for rapid process of variety of data that is produced from cars and car Cloud, Hyundai Motor Group is currently developing its own ccSP (connected car Service Platform) that provides variety of services to drivers. Its Big Data Center in China will focus on providing personalized services based on information on drivers' patterns by analyzing information on cars in China, regularly monitoring status of cars, and maximizing efficiency in driving and level of convenience by diagnosing cars remotely and automatically upgrading systems.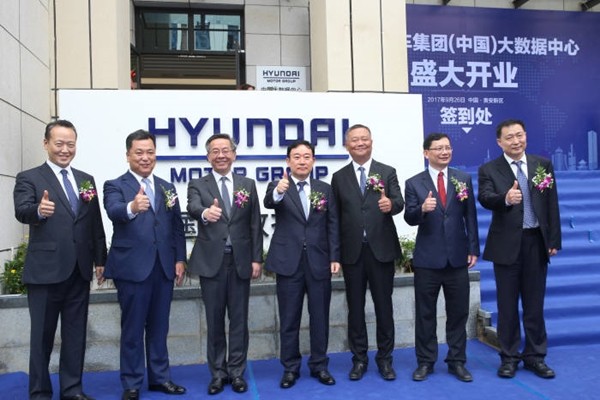 "Through analysis by Big Data, information will be reproduced as meaningful information and it will be used for variety of fields such as R&D, improvement in commercial value, estimation on markets, and decision making by management." said Vice-President Hwang Seung-ho of Hyundai Motor Company. "Combination of Hyundai Motor Group's knowhow in analyzing Big Data and Guizhou's drive towards Big Data industry will become a foundation for development of technologies for future connected cars."
Hyundai Motor Group is also going to work with China's second biggest telecommunication business called ChinaUnicom that has about 400 million customers in order to have more efficient analysis by Big Data. On this day, Hyundai Motor Group and ChinaUnicom exchanged a 'MOU (Memorandum of Understanding) for strategic partnership on Big Data'.
Through partnership, Hyundai Motor Group will secure enormous data in China and will focus on increasing competitive edge of its Big Data Center in China as early as it can. Besides ChinaUnicom's model on analysis of consumers' behavior patterns, they are going to develop a new analytical model that predicts data.
Hyundai Motor Group already established 'Hyundai Car Cloud' in South Korea in 2013 and created a 'data scientist' group that professionally analyzes data.
Staff Reporter Park, Taejoon | gaius@etnews.com