South Korea's small and medium company called Signet EV (CEO Hwang Ho-cheol) has become the first company in the world to pass a certification for a new version of 'CHAdeMO', which is the world's number one standard for charging based on accumulated market shares. Since last year, it has been discussing with Japanese automotive manufacturers such as Nissan and Honda about supplying them with its charging infrastructures.
Signet EV announced on the 25th that its chargers for electric vehicles recently passed a certification for a revised version of 'CHAdeMO (Ver1.2)', which is a standard for quick charging method for electric vehicles designated by a Japanese CHAdeMO Association. Signet EV is the first company in the world to pass a certification for a new version of CHAdeMO after it was revised in June.
Signet EV received certifications for total of four different fast chargers including CHAdeMO+CCS Dual Three-Speed Case (Product name: FC50K-CC-S).
CHAdeMO is an international standardization group that established with Nissan, Toyota, Honda, and The Tokyo Electric Power at the center. After introducing world's first rapid charging standard in 2010, total of 16,572 fast chargers including 7,133 fast chargers in Japan were supplied worldwide.
While status of standard from a chain association called 'Combo 1.2' that is led by European automotive manufacturers such as BMW and Volkswagen is rising rapidly, CHAdeMO is responding by standardizing next-generation technologies that can rapidly and simultaneously charge electric vehicles.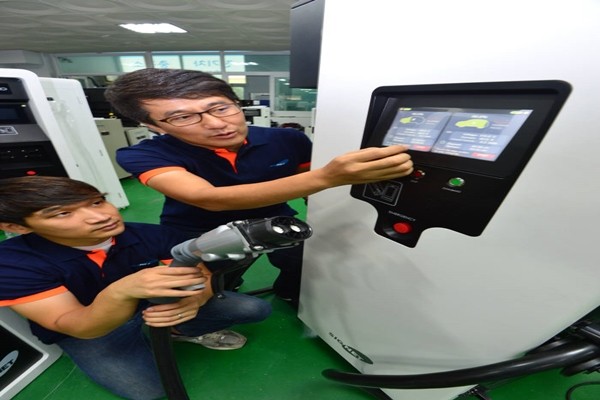 By becoming the first company to pass a certification for a new version of CHAdeMO, Signet EV is now in a favorable position to grab upper hands in Japanese markets for charging infrastructures. Since 2015, it has been supplying its chargers to Nissan within U.S. and European markets through Marubeni. It recently started discussing with Japanese automotive manufacturers such as Nissan and Honda regarding a charging infrastructure business within Japan.
"Due to ultra-fast charging and simultaneous charging, many global automotive manufacturers and companies that provide charging services are paying attention towards CHAdeMO Ver1.2." said CEO Hwang Ho-cheol of Signet EV. "We are materializing our discussions with Marubeni and Japanese automotive manufacturers such as Nissan and Honda."
Revised version of CHAdeMO increases current for charging from 125A (50KW) to 400A (200KW) and reduces time it takes to charge by less than one-third. While it takes about 30 minutes to rapidly charge Hyundai Motor Company's 'IONIQ Electric' with current rapid charging method (80% of a battery), this new version only takes 10 minutes.
Its another strength is that many chargers can be used at the same time through single charging system. Just like Tesla's 'Super Charger', many chargers can be used at the same time through single charging system within maximum capacity. It is also advantageous in managing stable demands for power by linking electric vehicles and charging infrastructures to a national power network and strengthening V2H (Vehicle-to-Home) and V2D (Vehicle-to-Device) functions.
Staff Reporter Park, Taejoon | gaius@etnews.com